The European bison is the largest terrestrial mammal in Europe, with an adult male weighing 900 pounds. A strong animal, that prefers to stay away from the humans and live finally a safe and protected life in the forests. In the past, the European Bison was totally extinct from nature, with the last bison hunted in 1926.
Previously, these giant herbivores inhabited a vast area from Britain, the Iberian Peninsula, to West Siberia. But with the destruction of their habitat, huge populations began to decline sharply. The Bison have a great reputation of legendary beast for also having been used in fights in the Coliseum, both gladiators and animals fought between lions. His flesh was much appreciated, and skin imported and sold to other countries.
From the sixteenth century, with a much smaller distribution, King Sigismund II Augustus Polish was the first to make offers to protect the species by banning their hunting. It was rare and interesting for a king create laws for the conservation of a species. But, this attitude was then adopted by other kings. But the intention wasn't to help in their conservation -- but exactly the opposite. Only the kings and the nobles were allowed to hunt Bison. They used the animals as entertainment for hours of hunting, and had greater opportunity to take a trophy home, that would be the head and skin of the bison, to show their status as a skilled hunter.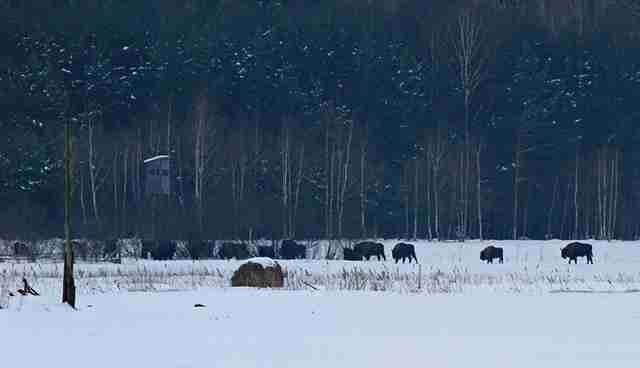 Eight years after the extinction, two bison adults were reintroduced in Poland in a small reserve, with fences built in the middle of the forest. This is necessary to adapt the animal to the environment for future full release. In 10 years the reserve has had 16 bison.
After that, the bison were released into the nature, and by the year 1966, 38 bison were living in the forest, ready to start an independent life without human interference.
Today, there are on average, 4,000 free European bison in nature, but they are highly susceptible to diseases, due to lack of genetic variability. Two populations (Poland and Belarus) do not mix because of the border between the two nations.
I took these photos when I took an Expedition in Poland to find these gentle giants. Although a relatively common animal in the forest of Bialowieza, the best time to see them is in the winter when the cold is intense. At this time the animals live in large groups, facilitating the protection from the cold and the search for food.