How One Man (Who Is Allergic To Cats) Is Saving Kittens From His Apartment
Steven Liu lives with nearly a dozen cats and is allergic to all of them. But that's not why he's trying to get rid of the little kitties: Liu runs a makeshift cat adoption agency known as the Scratching Pad from his duplex in Brooklyn. From his living room, he works tirelessly to find loving, permanent homes for each of his foster felines.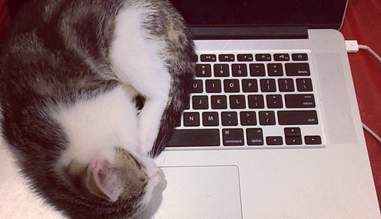 "I was looking through YouTube trying to figure out trends, and I made a remark to someone that was a dumb joke. I said, 'I bet there's more views per cat-ita than per capita,'" Liu told Catster. "Then it kinda clicked ... what if someone started an animal management agency where they saved cats at the same time?"
So that's what Liu is doing, one cat at a time. Through the Scratching Pad's Twitter, Instagram and Tumblr pages, the banker-turned-animal advocate is building a social media presence designed to fund his growing adoption agency; supporters can help out simply by following or liking Liu's profiles. It's an adorable way to do a good thing on behalf of animals, and it has an action step that most popular cat-content online lacks.
"Even if 10 million people see this picture of a cat it doesn't go anywhere," Liu said. "I wanted to make similar cat content but where the photo is featuring a cat that can be adopted -- so the cat is seen on the Internet, there's a social angle to it and lots of people see it, but the cat also gets a home."