"I'll never look at a giraffe the same," declared Philippe Binder, the Hawaii-based physicist who, while on sabbatical in Africa, decided to figure out once and for all how giraffes drink water.
Shutterstock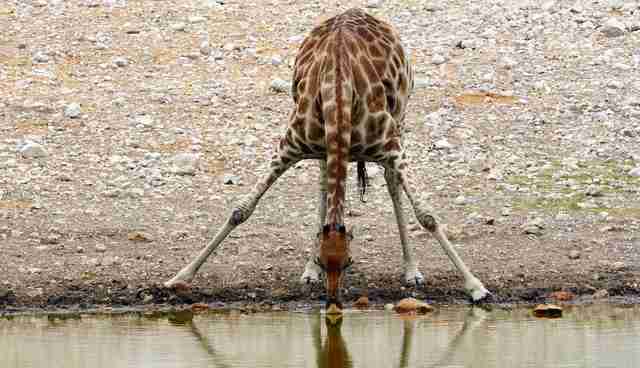 Binder normally studies chaos theory. But when he saw a giraffe drinking from a puddle in Namibia, he got to work. "Physicists often have a childlike curiosity to know why things do what they do," Binder told Inside Science about his research released in December. "I just wanted to understand how giraffes drink. It was sheer, pure fun."
If you take a second to think about it, the act seems to defy gravity.
Shutterstock
The lanky, long-necked animal has to awkwardly stoop down to watering holes and then somehow draw all that heavy water up his neck and into his body.
Shutterstock
Binder teamed up with another scientist, Dale Taylor, and together they ruled out the theory that the neck acts like an 8-foot-long drinking straw.
Curiosity kept Binder and Taylor going, though, and finally they landed on a theory that seemed to make sense: Giraffes have a sequence of special pumps in their necks that move the water up. According to Inside Science:
[T]he giraffe's lips form one valve of the "pump" while the animal's epiglottis, located at the back of the mouth, is the other. To start, the giraffe sinks its puckered lips into the water and then pulls back its jaw, allowing water to rush into the mouth, all the while keeping the epiglottis "valve" closed. Next, the giraffe clenches its lips and relaxes the epiglottis, then pumps its jaw so that the captured water is pushed into esophagus.
Shutterstock
To know absolutely that the theory of the pumps is true, the researchers will need to X-ray a giraffe - a tall order, indeed.
Unfortunately, the animals who spark excitement in the imaginations of everyone, from children to chaos theorists, need help: In 1999, the population of giraffes across Africa was estimated at 140,000; today, it's dropped to just 80,000.
Have a tip? Email sarahv@thedodo.com.