Rescuing wildlife doesn't get much more dramatic than this.
Following reports that a deer was stranded atop thin ice on a lake in Ontario, Canada earlier this month, the folks from nearby Aspen Valley Wildlife Sanctuary knew they had to do something to help.
"Unable to get footing on the slippery ice the deer struggled for hours and eventually would have died," wrote the sanctuary on Facebook. "The fire department was called, but because of the thin ice conditions, a rescue was too risky."
Fortunately for the deer, the sanctuary eventually found others willing to lend a hand - and they had the perfect thing to help them do it: a hovercraft, no less.
A crew from Air Rider Hovercraft International, a company that manufactures the floating, air-powered vehicles, arrived on the scene with sanctuary staff to escort the exhausted animal back to dry land.
"The ice was breaking around him. It would be tricky to get near him without having him fall through the ice," wrote the rescuers. "Once within reach, it was important to reduce the amount of struggling and to get him to shore as quickly as possible."
After securing the deer alongside their craft, the crew then eased their way toward the shoreline.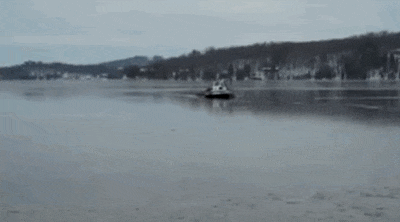 Fearing that the traumatized deer might flee back into the icy water, the rescuers tied a rope around his antlers to guide him to the safety of the shoreline where he was promptly set free.
"His muscles were sore, cold, and tired. He took a moment to regain coordination before bounding away," the sanctuary wrote. "After the rescue, this deer was tracked to make sure he was okay."
To some, the life of single deer might not seem significant - but thankfully there are plenty of folks who are willing to offer a helping hand, and have the tools to do it too.
Watch the full video of the stranded deer's rescue here.