This Guy Can't Stop Adopting Rescue Animals
"It's constant entertainment and I'm very grateful to have a home filled with so much love and dog fur."
Lee Asher is just a typical guy living in Los Angeles. He likes to chill with friends, go hiking, hang out by the water - and he also happens to have nine rescue pets.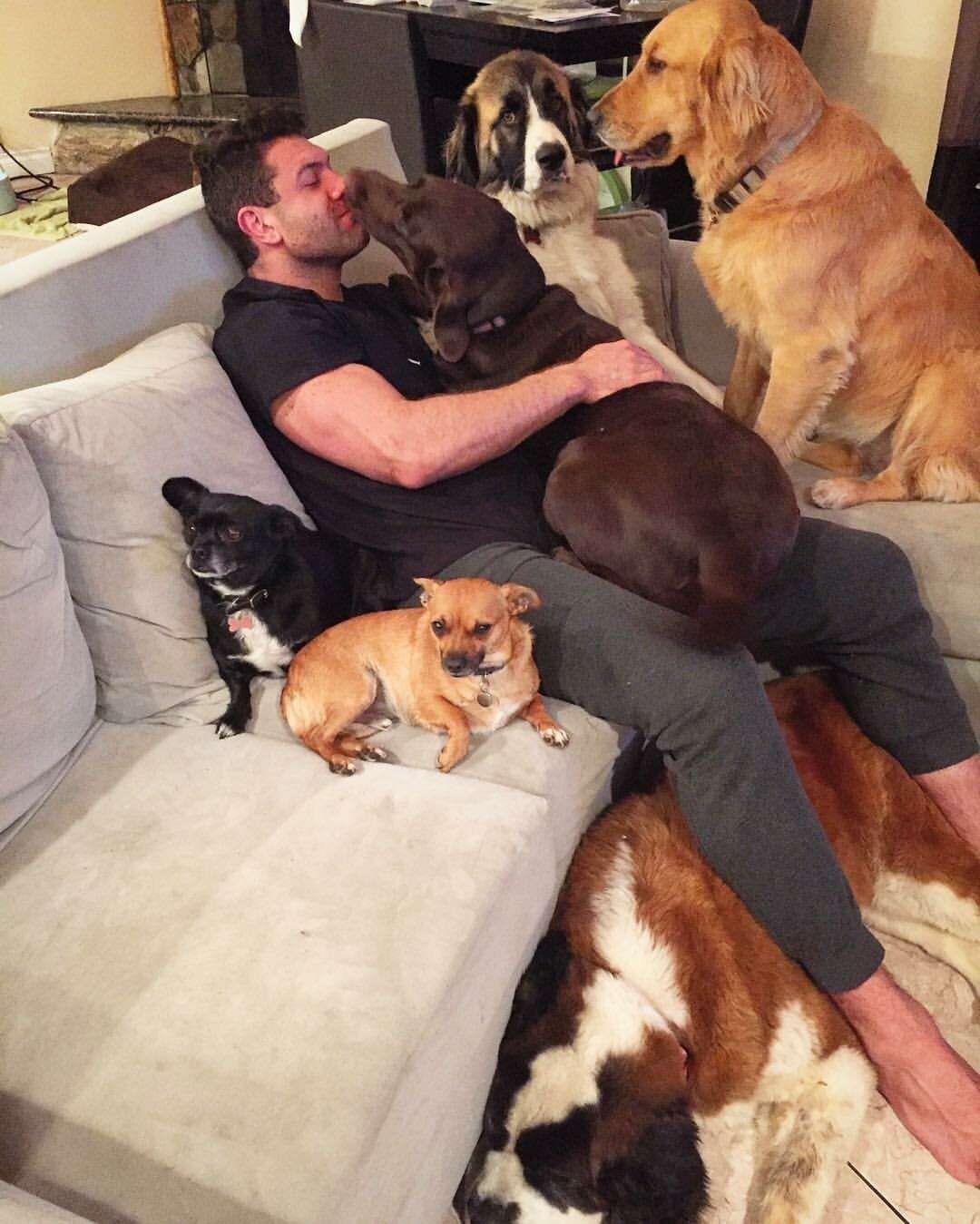 Ever since he was a kid, Asher knew he was destined to help animals. He used to spend a ton of time at the shelter near where he grew up, learning about the rescue process and getting to know the people involved in it.
"I always knew that when I was older I would have a house filled with rescues, so seeing where I am now isn't much of a surprise to me or anyone who knew me growing up," Asher told The Dodo. "The inspiration just comes from loving dogs and knowing that you are not only saving a life, but when rescuing a dog you are allowing the space for other rescues to possibly get adopted too. It's a win-win and a beautiful feeling."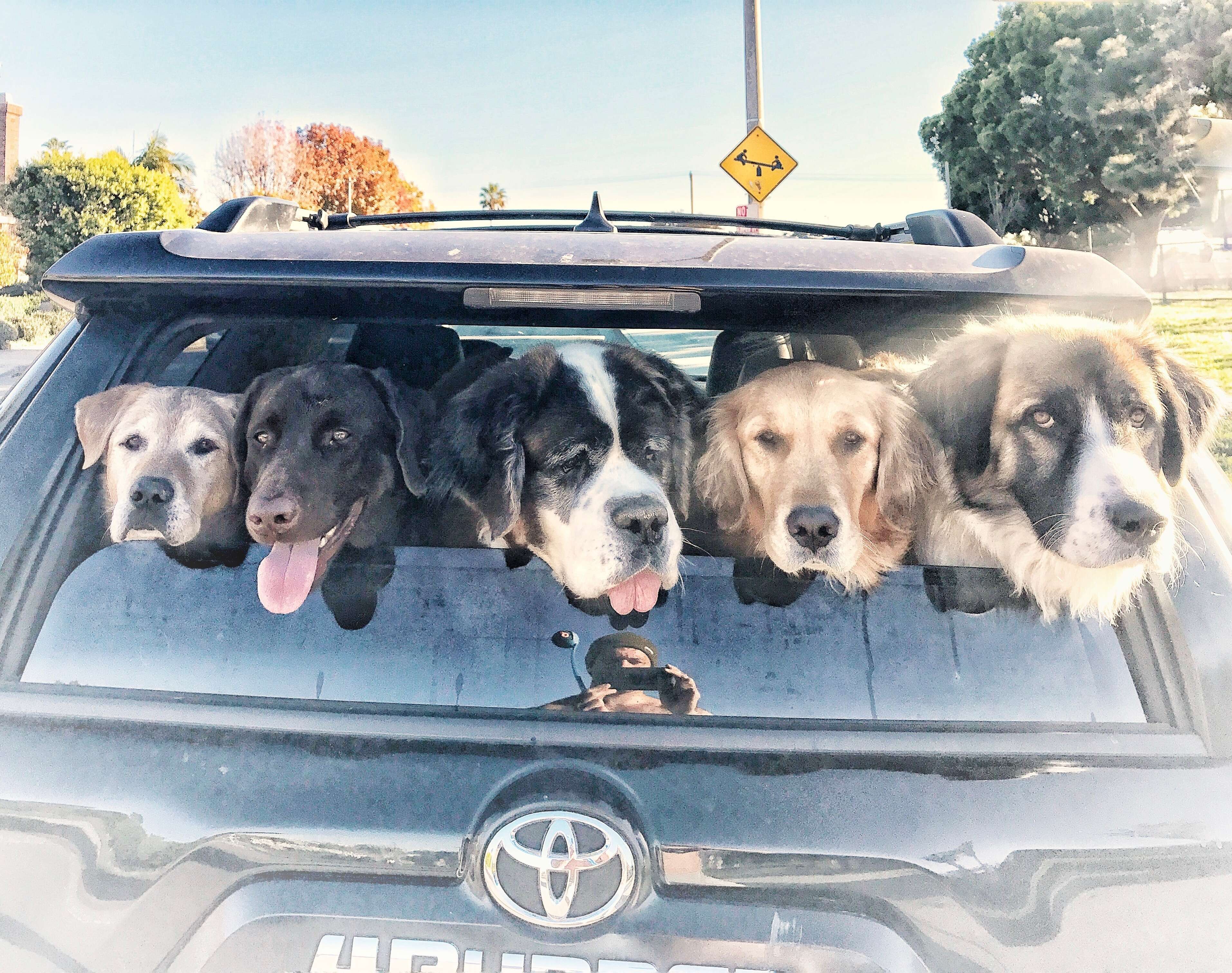 In college, Asher used to pull dogs from shelters and help find them loving homes. He's rescued 16 animals in total, but today he has seven dogs and two cats, some of whom are "foster fails." His dogs are Yaffa, Molly, Cali, Bo Bo, Butters, Haven and Lillie, and his cats are Whiskey and Goose.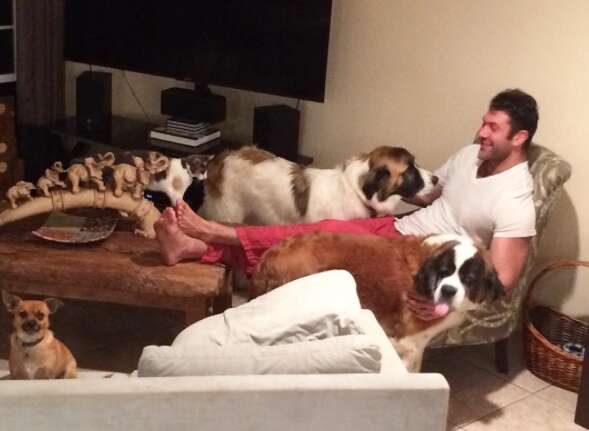 As soon as he was grown up and out on his own, Asher started adopting dogs like it was his job. Somehow, he always managed to find the dogs who needed him the most, like Butters, who was abused by someone who tried to sell him to a shelter when he was just a puppy, and Lillie, who was found sleeping in mud behind a dumpster. She also suffered from terrible seizures.
"She was a mess but I knew she was special; I could see it in both of her lazy eyes," Asher said. "She had to wait three long weeks before she was available for adoption. I would visit her three to four times a week and I kept telling her, 'We are going to have so much fun when I get you out of here.'"
Asher spent a month trying to get Lillie's painful seizures under control, and finally found a medicine that worked. She's now been seizure-free for nine months, and was finally able to go off her medication.
"Just like I promised her, we are having so much fun," Asher said.
More often than not, Asher doesn't go looking for dogs to adopt. He's met some of his dogs just hanging out at shelters, spending time with animals in need, and some of his dogs he happened upon in the weirdest ways. He found Molly while his mom was getting her watch fixed at a jewelry store across the street from a shelter in Florida, and found out about Haven when his ex-girlfriend was visiting her family in Texas. His dogs come from all across the country, and make up the cutest, most unique little family ever.
Asher's crew is incredibly diverse, made up of huge dogs and tiny dogs, old dogs and young dogs, dogs who'd prefer to just chill and dogs who need a TON of exercise. The one similarity? Asher loves them all equally, and they love him right back.
Asher treats his crew like best friends rather than pets. He has a different relationship with each one, and values them all for what they bring to his life.
"Cali and I have some pretty deep and intense convos late at night," Asher said. "Lillie is a big girl but she's my ride or die. Just don't touch her meatloaf - Lillie don't play that shit."
Asher and his pets are all the best of friends, so naturally, they sometimes fight like best friends do - like the time Bo Bo destroyed Asher's perfect couch.
"I'm 6'5" and 250 pounds. Do you know how hard it is for me to find a couch that I see myself being in love with for the rest of my life?" Asher said. "I swear to you I had this couch for less than 24 hours. Bo Bo tore that thing up before I could even eat a bowl of Cinnamon Toast Crunch on it."
Of course, Asher and Bo Bo talked it out and eventually made up, because that's just what best friends do.
"He a big boy, 100 pounds of muscle and love," Asher said. "I miss that couch though. Damn it, Bo Bo."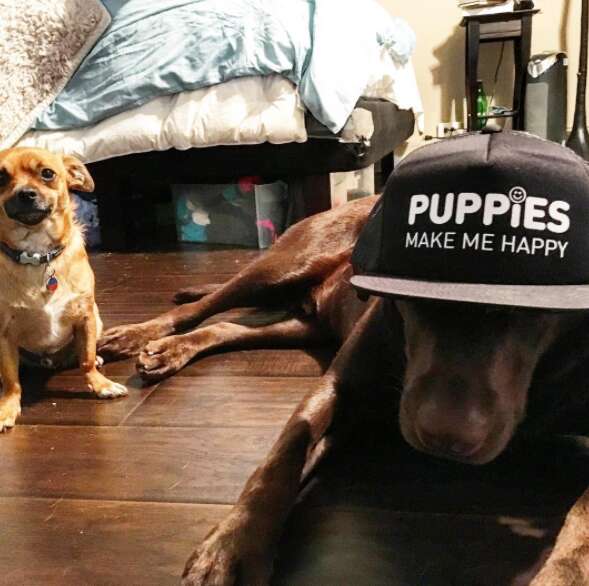 Some people might find the thought of living with nine rescue animals daunting, but for Asher, it's the most natural thing in the world. Every single one of his pets fit into his life perfectly. All of the dogs and cats get along with each other, too, which makes everything even easier. Asher takes his crew out with him whenever he can, and he tries to make sure he spends alone time with each one, as well.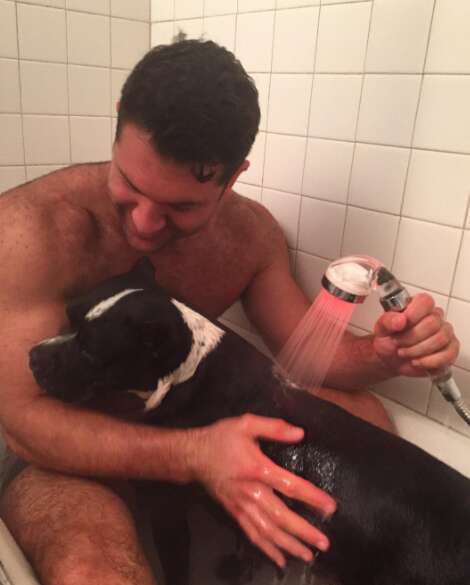 "I usually bring two to three dogs with me wherever I go," Asher said. "Sometimes I feel like one will need alone time so I'll just bring that one. I see a big difference in their behavior when they get to spend the day with me alone. They really love it."
It was always Asher's goal to fill his life with lots of animals, and today he truly is living out his dreams with a huge family of furry, silly animals who love him so much.
"It's constant entertainment and I'm very grateful to have a home filled with so much love and dog fur," Asher said.