Horse Who Fell Into Deadly Pit Gets Rescued In Nick Of Time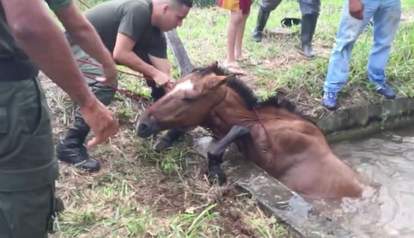 <p> <a href="https://www.facebook.com/Policianacionaldeloscolombianos/videos?fref=photo">Policía Nacional de los Colombianos</a><span></span> </p>
Of all the places for a horse to find himself alone, a sand-grinding pit on the edge of the Colombian jungle may rank among the most terrifying.
Somehow, this horse managed to fall into a ditch, where sand is made from water and ground stones - a sinking death trap for anyone caught inside.
And of all the people to come to his rescue? A machine-gun-toting detachment of Colombia's finest.
A video, posted to the Facebook page for Colombia's National Police Service, details the spectacular rescue effort.
Attaching ropes to the beleaguered horse, officers attempted to haul him out of the murky water.
Watch the video here: