These Horses All Died On The Same Racetrack
This is actually the norm at racetracks all over the world.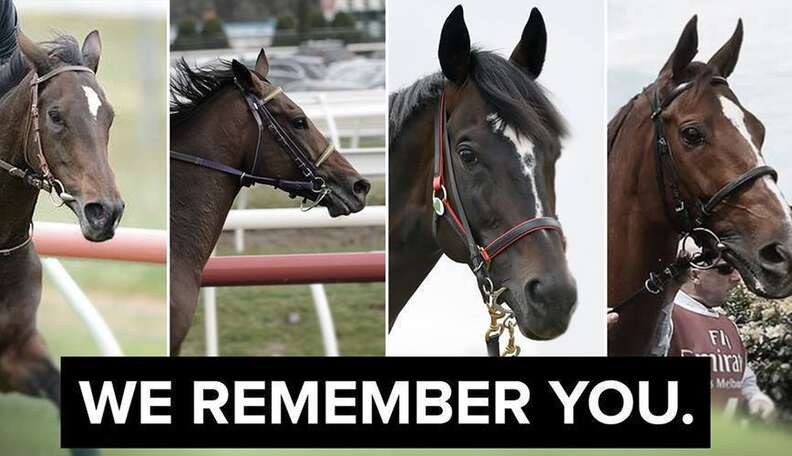 The racehorse collapsed at the finish line. He'd injured his left foreleg, fracturing the bone near his fetlock joint at the base of his leg.
People rushed over, holding up large green tarps to prevent the crowd - as well as those watching the race on TV - from seeing the horse in pain. Eventually the tarps came down. The horse - named Red Cadeaux - had gotten to his feet and trotted toward an ambulance trailer. The crowd cheered, probably believing the horse was going to be OK. A couple days later, Racing Victoria even announced that Red Cadeaux was "comfortable" and his fracture was "stable," and that Dr. Chris Whitton from the University of Melbourne believed his injury was "not currently life-threatening."
Then, a few weeks later, the public got a different story: Now Red Cadeaux's leg injury was "irreversible," and he was euthanized on November 20, 2015.
Red Cadeaux was the fourth horse to die in the last four years of the Melbourne Cup, Australia's famous - in some ways infamous - horse race, which takes place in November each year. In 2014, two horses - Admire Rakti and Araldo - died after sustaining race-related injuries. In 2013, a horse named Verema was euthanized right on the racetrack, although green tarps prevented the crowd from seeing what was happening.
At this year's Melbourne Cup, which took place on Tuesday, no horses died - but many were expecting them to. In fact, an Australian broadcaster released a satirical piece weighing which horse would be most likely to die.
While many people are appalled by the deaths of these horses, the Melbourne Cup continues to hold mass appeal in Australia - there are office parties, booze-filled luncheons and cash wagers. About 100,000 people attend the Melbourne Cup in person, and millions watch it on TV. The race also makes the Australian state of Victoria a lot of money. In 2014, the race made approximately $194.9 million AUD (about $149 million USD) in revenue, according to a racing industry report.
It's not only "retired" racehorses who are slaughtered - young horses who never make the cut are sent to their deaths as well. For instance, if a horse is deemed "too slow" or "too untrainable," or just doesn't have the right physique for racing, he will most likely be sent to the slaughterhouse.
Over 25,000 Australian horses are killed in slaughterhouses each year, according to Animals Australia. What's more, horses usually have to watch their friends and family members die while they wait to be killed.