It was a big property for one horse. So big, in fact, that the people who owned the young mare apparently had a hard time catching her.
In fact, it may have taken a year for anyone to get their hands on the Denton County, Texas, horse - the horse someone left a halter on a long, long time ago.
By then, it was almost too late.
Warning: Mildly graphic image below

"From what we've been able to piece together, we think they left the halter on when they were trying to halter train her," Whitney Hanson of the Humane Society of North Texas (HSNT) tells The Dodo. "And then they were unable to catch her."

Humane Society of North Texas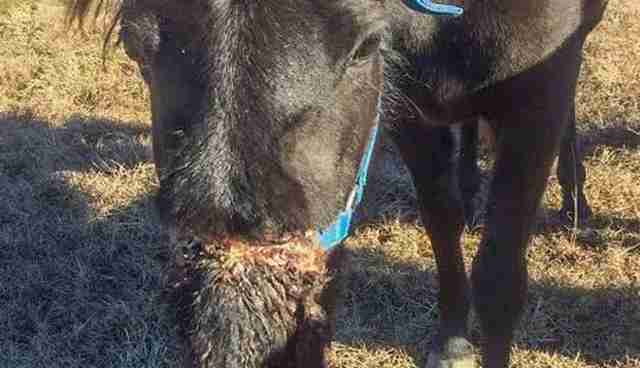 The horse, who would later be named AJ, was finally corralled on Christmas Eve - and immediately brought to Outlaw Equine Hospital in nearby Decatur for emergency treatment.
She had a gaping, infected wound across her nose where the halter had slowly, excruciatingly dug in. Rescuers estimate the halter had been on her for a year.
Having been surrendered to HSNT by her owner, AJ is following a precarious path to recovery, paved in plenty of antibiotics.
Humane Society of North Texas
And, of course, a healthy dose of human contact.
"She's doing really, really well," Hanson says. "She's in good spirits."
It will be several months before AJ's wounds heal.
"Once we get her completely rehabilitated, we will be looking for a home for her," Hanson notes. "Right now, she's just going to be recuperating at one of our equine properties and getting a lot of TLC from our staff."
It will be months before AJ's rehabilitation ends and she's deemed ready for adoption. For updates on her condition, check out the HSNT Facebook page here.
Humane Society of North Texas
The nonprofit organization helps around 25,000 needy animals like AJ every year. If you would like to make a donation, visit the website here.