Salt Lake City's Carriage Horses Will Never Return Again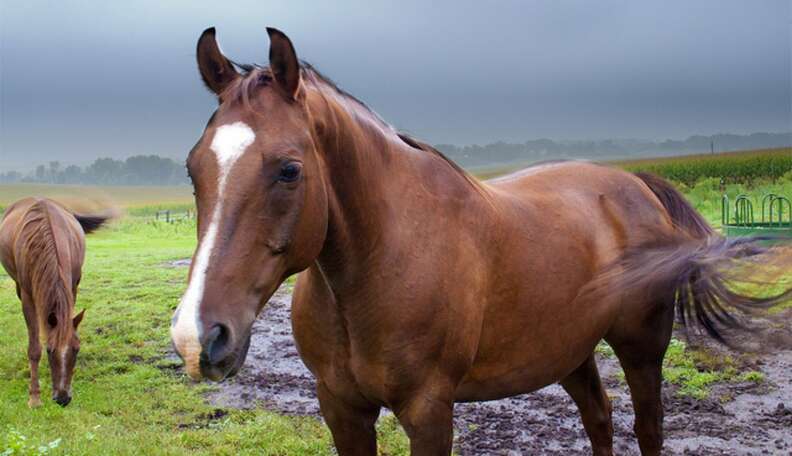 Two months after the last horse-drawn carriage company left the city's streets, Salt Lake City, Utah, has passed a law to ensure that they'll never be back again. On Tuesday evening, the City Council unanimously voted to ban horse-drawn carriages after years of backlash from animal advocates.
The news comes after a 13-year-old horse named Jerry collapsed and died in 2013 while carrying passengers around the city on a hot summer afternoon. Footage showing Jerry's collapse sparked a controversy that eventually led the company that owned Jerry, Carriage for Hire, to shut down. Though the company's departure was welcomed by animal activists, PETA and the Utah Animal Rights Coalition still pressed for an all-out ban to prevent future incidents. A petition calling for a ban gained over 30,000 signatures.
At first, the council simply enacted tighter regulations requiring more breaks for carriage horses. But with this week's ruling, carriage horse companies won't even be able to legally operate within city limits.
Salt Lake City Weekly reports that the Humane Society of Utah director Gene Baierschmidt praised the council's decision in the courtroom, saying, "We believe the times have changed and horses don't belong on busy city streets."
The ban may have implications for other cities' carriage horse industries. One high-profile case is in New York City, where the industry has been a major issue for animal advocates lately. Mayor Bill deBlasio has promised to ban the carriages under his tenure, even saying that action would be taken toward a ban by the end of this year - though he hasn't made any further announcements thus far.
Proponents of the horse carriage industry argue that the horses are well cared-for and that traveling in a horse carriage is safer than traveling by car or bus in the city. But opponents say that the risk of injuries to the horses is too great, and that horses don't belong in busy traffic.
Allie Feldman, the executive director of NYCLASS, an organization that has been working to ban the city's horse carriages, said that Utah's decision puts New York's industry in the spotlight.
"Now, it's time for the New York City Council to follow the lead of Salt Lake and move forward with the mayor's plan to ban carriage horses from New York City streets," she said.
After documents revealed more than two dozen carriage horse incidents recently, including several alleged "hit-and-runs" in New York, NYCLASS even commissioned a replacement electric vehicle that would provide rides to tourists in the horses' stead. See what it's like to ride in the horseless "e-carriage" here.