Horrific Puppy Breeder Allowed To Keep 41 Dogs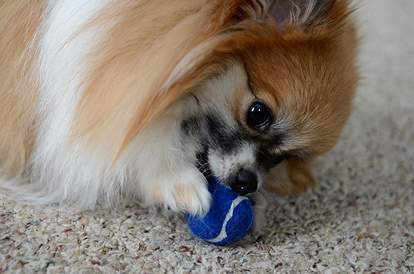 Linda Roach, the proprietor of OKC Poms, a Pomeranian breeder in Oklahoma City, was charged this week with 124 counts of various forms of animal cruelty, including failure to provide humane conditions and failure to provide veterinary care to the puppies in her house (yeah, house. The business was run out of her house.). That's one count per dog, so 124 dogs were removed and brought to nearby shelters. From local news station KFOR:
While Animal Welfare says the dogs look to be healthy, the condtions they were living in were not. "Cockroaches in the food, there was feces everywhere. The cages hadn't been cleaned properly for quite some time. There was a ventilation issue. So it was pretty bad," said Officer Mike Cronic.
Here's where it gets insane: legally, says KFOR, animal control is only allowed to remove the dogs found to be living in unsafe conditions. That leaves 41 dogs found to be living in "acceptable" conditions, and thus remaining at OKC Poms.
The rescued dogs are now looking for new homes; if you're in the Oklahoma City area and want to adopt, give Animal Control a call at 405-297-3100. Pictured above is a Pomeranian not involved in this case. (via Dogington Post)