Rescuers Thought Baby Monkey Was Paralyzed For Life — Until He Sat Up
His name is Hope.
Hope, a long-tailed macaque, once lived with a large group of monkeys just like him near a temple in Thailand. At some point, he was probably a healthy animal - but then that all changed and nobody knows why.
Wildlife Friends Foundation Thailand
Wildlife Friends Foundation Thailand
The organization immediately sent a rescue team to investigate the situation. The monkey was examined by WFFT's veterinary team, who found that he had no broken bones or wounds, but was suffering from paralysis throughout his entire body.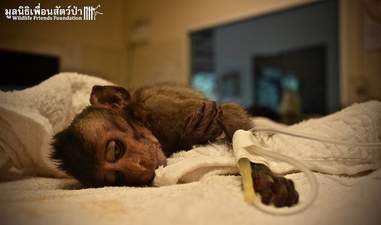 Wildlife Friends Foundation Thailand
"We were told by the people who reported him to us that he had been found two days prior, outside the mountainous area of the temple grounds, lying on the floor, unable to move," WFFT wrote on Facebook. "They informed us that they believe that he had fallen from a tree. This is highly unlikely for an animal that is built to live in the trees, with excellent abilities of climbing and jumping, to have fallen from a tree."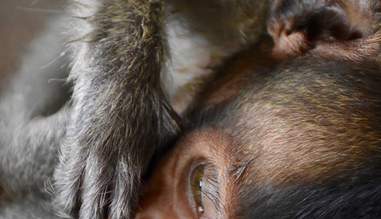 Wildlife Friends Foundation Thailand
In reality, staffers with WFFT suspect Hope was hit by a moving vehicle or had been beaten by someone with a weapon. Sadly, both are common occurrences in macaque populations who live near people, according to WFFT.
The veterinary team took the young macaque back to WFFT's wildlife rescue center to further assess his condition.
"The mother was nowhere to be seen," Tom Taylor, assistant director with WFFT, told The Dodo. "She had [must have] ... fled the scene. It is unlikely that she left her baby behind, or she was fatally injured herself."
Wildlife Friends Foundation Thailand
The baby monkey was named Hope by WFFT's team and is estimated to be around 6 months old. After spending days in intensive care, where he was given fluids through intravenous therapy, Hope surprised the entire team with just a few, simple gestures.
"He started to move his upper body, giving us hope that he may recover," WFFT wrote. "He began to eat soft fruits and drink water."
Wildlife Friends Foundation Thailand
In photos shared by WFFT, Hope can be seen sitting up slightly, taking in water through a syringe and eating food fed to him via spoon.
Wildlife Friends Foundation Thailand
Although it is unknown for certain what caused the monkey's paralysis, WFFT hopes that with these positive signs, he'll one day be able to walk, run and climb again.
Wildlife Friends Foundation Thailand
"He will be given daily physiotherapy sessions by our veterinary team along with various dietary supplements such as extra vitamins added to his diet," Taylor said. "He may fully recover, but at this moment we cannot predict the outcome. He is [getting] stronger every day."
Want to help WFFT continue doing good work for animals in need? See how you can contribute here.
Watch this video about an adorable rescued baby monkey who's learning to be wild: