Homeless, Senior Dogs Need Your Help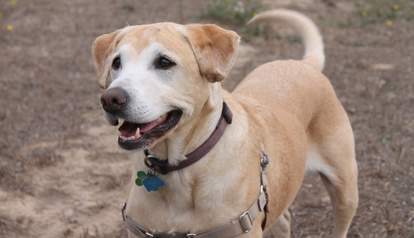 Shortly after moving to California, I was at the farmers' market wandering the many tables of local organizations. It was "Nonprofits Day," and many organizations were out tabling for volunteers and donations. I've never been able to resist a puppy when I see one, and Lulu's sweet face was just calling out to me from across the way. This beautiful eight year old Newfoundland-Sharpei mix laid in the shade quietly with a green bandana around her neck next to this table filled with pictures of happy dogs and signs saying "Adopt Me."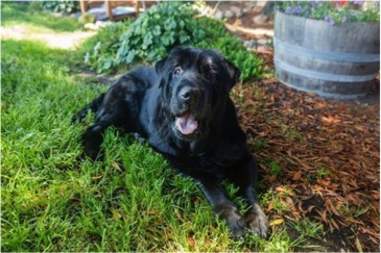 That was back in July. When I first began volunteering for Lily's Legacy Senior Dog Sanctuary, Lulu's body was still patchy, missing large amounts of hair all over. She had medicated wipes and ointments in her eyes every day, and was on a strict diet, but her demeanor was happy as ever. When she had first come to Lily's Legacy, her stomach was like leather, just completely hairless. Over the months, I watched as she went from completely uninterested in walks or exercising to waiting by the door for her chance to get outside and explore. I watched as she began to regrow hair and as her eyes slowly got better. And just last week, I watched as her new mom took her to her new forever home.
Lulu had lost out on many potential adopters because she was a senior large breed dog; her food and medicine were not cheap and she still needed someone to give her the wipes and ointments every day to keep her in the healthy shape she had grown into since being taken in at the sanctuary. Senior large breed dogs are perceived to be the most unadoptable kind of dog. Large breed dogs require more financial investment than smaller breed dogs; older dogs don't have as much play in them; a puppy will be around for longer; the reasons go on.
Lily's Legacy Senior Dog Sanctuary is a nonprofit organization located in Northern California that is dedicated to helping senior large breed dogs. Lily's Legacy was founded by executive director Alice Mayn in memory of Lily, a 14-year-old golden retriever she had fostered. Lily was found wandering the streets of Santa Rosa and brought to the Sonoma County Animal Shelter in November 2007. She had a host of health problems, including a very bad nasal infection and a tumor on her eyelid. Over the next four months, Lily and Alice together battled and survived the tumor removal, the infection, canine bloat, and even a seizure. When she passed away after developing a blood disorder in February 2008, Alice saw the sanctuary as a mission from Lily; a place where many of the senior dogs who are lost, abandoned, or otherwise find themselves homeless, will have a safe haven in which to live out their days, or stay until a loving adoptive home is found, and where they will receive the love and care they so richly deserve.
Some of our dogs are owner-surrenders; others are last-minute rescues from shelters who don't have room and don't think the dog is adoptable - we take in these dogs before they are put down by the shelter. Aside from daily care and TLC, Lily's Legacy provides regular veterinary care and anything else needed to nurse a dog back into health. This is Shooter, a yellow lab who came in less than a week ago. After his intake check-up, he had a long overdue surgery to remove a mass on his front paw, and much needed dental work. An amazing foster family has volunteered to take him in following his foot surgery to make sure he gets the extra TLC that he'll need, away from the other dogs at the sanctuary so he can stay off his feet.
The sanctuary recently moved into a larger property in the Petaluma countryside, where the dogs have room to run around and play. Some of the shelter dogs that come in don't recognize the grass in the yard simply because it's been a while since have seen grass, let alone sniff it and feel it to know what it is. We are currently permitted to have 10 dogs on the premises; many dogs that are taken in by Lily's Legacy are fostered because the house is simply full. The opportunity to expand the sanctuary and apply for a larger permit has recently come into play, and we are working to raise awareness and the $1 million for the property so we can take in more dogs. The goal is to be able to help a minimum of 150 dogs each year.
This year, we're participating in #Giving Tuesday by trying to raise $3000 towards the veterinary fund. Please go to bit.ly/lilyslegacy for more information on how you can help Lily's Legacy Senior Dog Sanctuary, and check out our website for a list of adoptable dogs. We need your help on #GivingTuesday to care for these wonderful old pups in their golden years!