Homeless Man Walks 5 Miles Every Day To See His Dog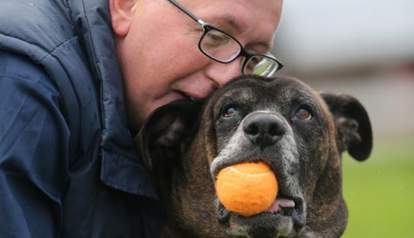 Even when falling on hard times, Pete Buchmann made sure his best friend was taken care of.
Having worked since graduating high school, Buchmann never thought he'd find himself one of the 3.4 million Americans without a home. But as was the case with many, when the economy went, so did his job.
"I'm not your stereotypical homeless person," Buchmann told Delaware Online. "I don't drink, and I don't do drugs."
Even still, this past July Buchmann lost first his job, then his car, and, finally, his house. He was forced to move into a two-person tent in the backyard of a vacant house in his neighborhood, but soon realized his living situation was less than ideal for his 9 year old Rottweiler-Boxer mix, Buster.
Bachmann turned to police for help, wanting to find a place for Buster until he could get back on his feet. He had come to Wilmington a year and a half ago, after his sister and sickly mother died within weeks of each other. Having never been married, he had no relatives or children to turn to.
What he found was a saving grace in the form of Faithful Friends Animal Society in Wilmington, a no-kill shelter willing to take Buster in. Buchmann left a message describing where he and Buster could be found, and shelter manager Lou Henderson-along with a "goodie bag" of food and other items for Bachmann-went and picked the elderly dog up. It was a move, according to executive director Jane Pierantozzi, which saved Buster's life.
"He's old," she said, "he has arthritis, and he's protective and attached to Pete. Dogs like that can go down fast in a shelter. We knew if he went to a kill shelter he wouldn't survive."
Now, Buchmann walks 2.5 miles each way every day to spend time with his best friend, spending between 2 and 3 hours helping shelter volunteers walk the other dogs.
"I am just amazed at his attitude," Pierantozzi said. "Most people in his situation would be depressed and angry, but he isn't."
Pierantozzi has been reaching out to her contacts around Delaware to see if there are any job openings for Buchmann. He has been working part-time at the shelter, but the donation-funded facility has no more room in the budget to pay him.
"Pete has been so resilient through all his trials," she sympathized. "It's bad enough to lose your home, but to not know what's going to happen to your pet is horrible. I just hope there are people out there that can help."
As for Buchmann, he is simply grateful his best friend is taken care of. "He's my buddy; he's been with me through everything," he said of Buster. "He seems content here, and he knows now that I'm coming back, that he hasn't been deserted.
"Faithful Friends helped me save my faithful friend. I'll be grateful forever. I have nothing to complain about."