Homeless Man's Desperate Pleas For His Dog Are Answered
<p> <a href="https://www.youtube.com/watch?v=VeMYwbtBnms" target="_blank">YouTube/WLFINews18</a> </p>
As the weather starts to get colder, many homeless men and women are forced to make an unthinkable choice - give up their beloved pets and have a warm bed for the winter, or brave the cold together. Timothy Lucas, of West Lafayette, Indiana, has been trying to find a middle ground for his treasured pup, Moe.

YouTube/WLFINews18

YouTube/WLFINews18
Lucas was offered a place to stay in Lafayette Transitional Housing Center - but the shelter doesn't allow dogs. So he pleaded for someone in the community to help care for Moe temporarily while he gets back on his feet this winter.
"As long as I know it's just for awhile and that he's safe ... and we'd be back together, that gives us hope," Lucas told local outlet WLFI. He choked back tears as he described his relationship with Moe.
YouTube/WLFINews18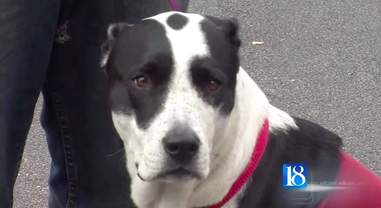 YouTube/WLFINews18