Homeless Man Screams In Horror As People Run Away With His Dog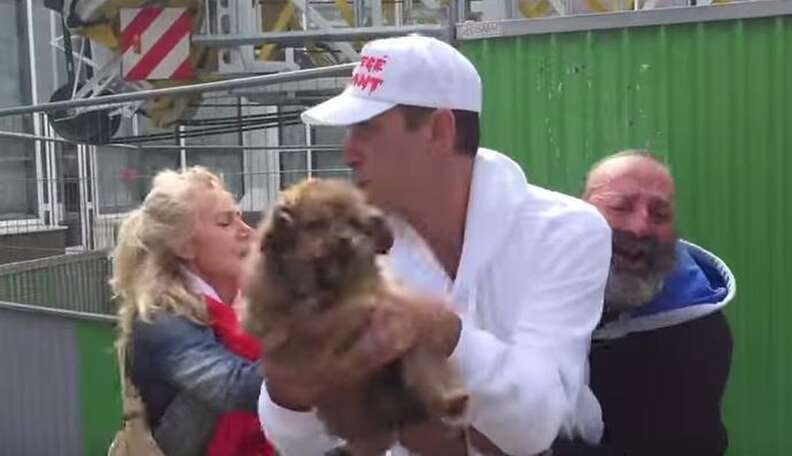 <p><a href="https://www.youtube.com/watch?v=7pKb29VHwb8" target="_blank">YouTube/Seven LE DUC</a></p>
Disturbing footage has emerged showing members of a French animal welfare group accosting a homeless man who struggles in vain as they run off with his canine companion.
Activists from Cause Animale Nord, including the group's president Antony Blanchard, instigated the shocking incident, which occurred last week in Paris. The video shows activists snatching the little dog from her owner before handing her off to another member who races off down the street. The homeless man, wailing in desperation, briefly grapples with Blanchard to stop the theft. He then abandons his few possessions to give chase, but is unable to keep up.
Nghi Le Duc, who captured the theft on film, says he was "shocked" by what he witnessed - and he's far from the only one who had that reaction.
Within hours of the footage appearing online, a petition was launched on Change.org calling for Cause Animale Nord to be investigated and for the little dog to be returned to her owner. As of Thursday, more than 85,000 people have added their signatures.
"Nowhere does [the group's mandate] stipulate that it has the right to remove an animal without warning. That's what they did by violently attacking a homeless person to remove his puppy around the Chatelet area of Paris," the petition reads. "To justify this act of extreme violence, they allege that the homeless person is a Roma [male Gypsy] and that the animal was drugged, it hadn't been vaccinated or had ID and was malnourished."
Critics later noted that, within hours of the incident, the group had posted an adoption listing on Facebook for a dog believed to be the one stolen in the video. A caption noted "we took it from a Roma who was begging," but the posting has since been removed.
French media outlet MetroNews contacted Blanchard, who, despite any evidence that the dog had indeed been drugged, claimed this is often the case for dogs possessed by Romas.
"We know how important the presence of an animal is for people on the street," Blanchard wrote on Facebook. "It is the only link they have with society. But we take this action to help. We can not condone the exploitation and abuse of animals for commercial ends."
While it's unclear if the dog was actually being mistreated or not, at least one other local animal welfare group is critical of Blanchard's actions regardless. Grégory Malfait, president of the Animal Protective League, told French media that he was maddened by the incident, adding that Cause Animale Norde took the dog illegally.
"Even if we do animal protection, there is still a legal framework there," he said. "They went completely off."
For information about how to help the less fortunate who may be struggling to care for their pets, visit PetsOfTheHomeless.org.