Homeless Kitten Falls In Love With His New Baby Brother
"He just instantly became part of the family."
Matthew Davis was dropping off his daughter at daycare when he came across the saddest sight - a tiny kitten sitting on the porch, drenched from the rain and crying.
"My daughter said, 'There's a sad kitty outside, daddy,'" Jessica Davis told The Dodo. "He said he sounded so sad on that porch and it broke his heart. When he walked back to the car, the kitten followed him. He scooped him up and put him in his jacket."
The Davis family did their best to try and find the 12-week-old kitten's owners, but after talking to people in the neighborhood, they found out that he had been abandoned. And so, of course, they knew they had to keep him. They named him Doug.
Doug was so happy to finally have a home, and couldn't stop purring and cuddling with his new family when he first arrived in his new home.
"He just instantly became part of the family," Davis said.
Doug follows his new family everywhere and won't let them out of his sight - especially the family's youngest member, Rowan.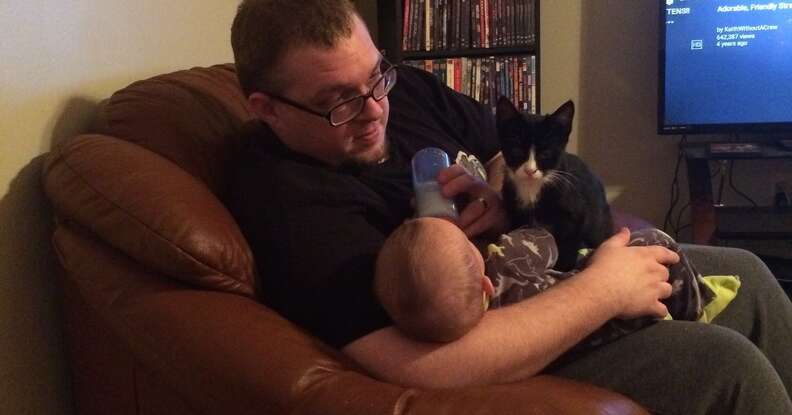 Doug is obsessed with his new brother Rowan, and loves to snuggle and lay on top of him ...
... and Rowan seems to love Doug just as much.
"Rowan is fascinated by Doug and Doug is so patient and friendly with Rowan," Davis said.
Doug went from being a homeless kitten struggling on the streets to having a warm, loving home and a new best friend, and it's the best ending anyone could ever ask for.