Living on the streets is no doubt terrifying, and two little dogs found a way to make it more bearable.
Hope for Paws, a rescue organization in Los Angeles, received a video text message of two homeless dogs fending for themselves.
YouTube/Hope For Paws
They helped each other make it through the rough times, and their rescuers knew that they also needed to be rescued together.
When they found and approached the pups in a trash heap behind a building, the duo were friendly and eager to be rescued - but also unwilling to leave each other's sides. The pair allowed rescuers to pet them and give them attention, and even accepted food.
YouTube/Hope For Paws
Hope for Paws volunteers named the dogs Dill and Pickles. They put a leash over the boy, Pickles, first, so Dill could see that it was safe. If her best friend could do it, then so could she.
YouTube/Hope For Paws
Before taking them back to the car, Pickles cuddled up to Dill, proving to rescuers that the only way these two got through living on their own was by being together, always.
YouTube/Hope For Paws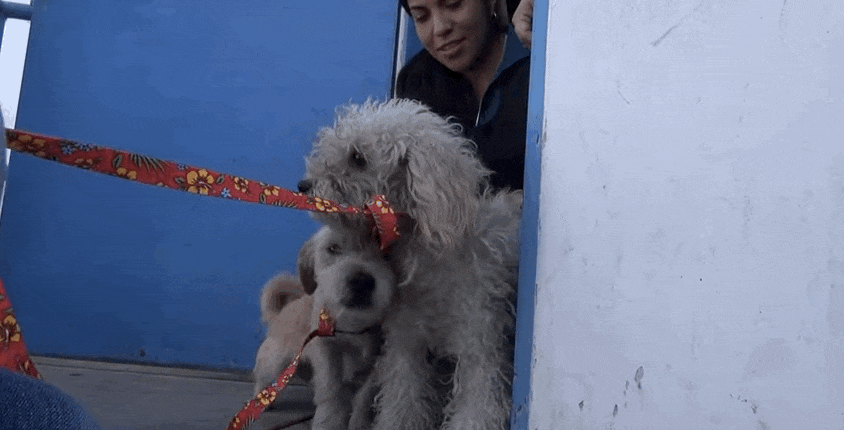 One of the volunteers picked up Pickles to bring him to the car, and Dill immediately followed, going wherever her best friend went.
YouTube/Hope For Paws
When a volunteer climbed into the car with Pickles, Dill knew that it must be safe, and climbed up onto the car, signaling that she would be OK with being lifted in, too.
YouTube/Hope For Paws
Finally, both friends were in the car and ready to be taken off of the streets - forever.
YouTube/Hope For Paws
Even now that they've been rescued, Dill and Pickles are inseparable, and don't like to be apart for very long at all. Hopefully these two will find a loving forever home where they can be together forever and finally feel safe.
YouTube/Hope For Paws
Check out the full video of Dill and Pickles' rescue below: