UPDATE 9/18/15: Sienna Rose is still looking for her forever home! She received reconstructive surgery to fix her nose, and is doing wonderfully. If you'd like to be Sienna's forever family, contact Second Chance Rescue to get started.
What a difference love can make! This is our sweet Sienna Rose, many of you already know of her story. For those who do...
All dogs want a home they can call their own, and when this sweet puppy didn't have one, she tried to make one all by herself.
Sienna Rose was found wandering around Baltimore on a snowy night this past winter. She was likely a victim of dog fighting - tragically, part of her face appeared to have been bitten off when she was found, Kelcy Kimmerer, of Second Chance Rescue, told The Dodo.
Crystal Baldwin, a social worker at a Baltimore school, saw Sienna through a window in her classroom - the dog was freezing and huddled up next to a telephone pole. Baldwin took about 20 minutes to approach Sienna, and when Sienna was finally comfortable, she began begging for crackers from the bag Baldwin was holding. Sienna was so excited to have found a friend, and soon led Baldwin to where she had been living.
"Her home was around the corner of a cement wall - the last remaining part of a burnt-down home - underneath a pile of snow-covered drywall that had been propped up against what remained of the building," Baldwin said. "Under the drywall she had hidden what she had been living off of - a few empty chip bags and a bird carcass. She was so excited to show me and it made me so sad for her."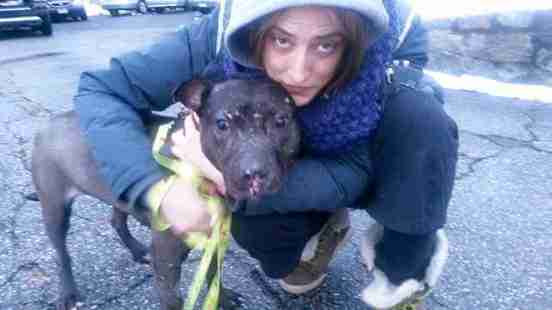 Even though it was late and snowy, Baldwin was able to get in contact with a shelter in Baltimore, and from there Sienna was sent to Second Chance. She has since undergone some facial reconstruction and is now being fostered - but she'd love more than anything to be able to find her forever home. Sienna spent who knows how long living on her own, injured and trying to make a home for herself. Now, she wants to make a home again - with people who will always love her.
"From the minute I met her I knew that she was something special, she was unique and she embodies what love is," Baldwin said. "I completely trust that she will have no problem finding someone who deserves her as their forever furry family member!"
Sienna is doing worlds better, and is now a happy little lady. She would do best in a home where she's the only pet due to her horrible past, but otherwise she's not picky. She just wants to be loved.
Sienna now has her own Facebook page called Sienna's Second Chance, and has nearly 9,000 likes. Now she just needs a family. Who wouldn't want to adopt this playful pup?