Homeless Woman Says Goodbye To The Stray Dogs She Cared For
She wanted them to have a better life.
When rescuers found a group of seven dogs living by a river, they were surprised that they weren't scared of people - until they realized they were being cared for by a homeless couple.
When the rescuers with Hope for Paws, a Los Angeles-based rescue group, arrived at the site, they were greeted by four incredibly friendly dogs.
Hope for Paws
The dogs were clearly not scared of people at all, and the rescuers soon realized why.
Hope for Paws
The rescuers heard someone calling to the dogs, who immediately ran to her. They followed the dogs, who led them to Wilma, a homeless woman who told them she'd been caring for the dogs.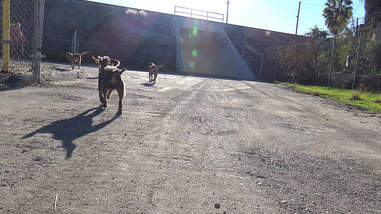 Hope for Paws
When Wilma realized the rescuers were there to take the dogs away, she was upset and tried to resist. The rescuers followed her into a nearby tunnel, where she lives, and took out their iPads so they could show her their website and all that they do to help animals. They also promised that they would do everything in their power to help her, too.
Hope for Paws
Wilma was crying and very distraught, but ultimately agreed that they could take four of the dogs. She clearly wanted the dogs to have the best life they possibly could, even if saying goodbye would be difficult.
"Wilma knew that she is struggling herself, and that not having to care for the dogs would make her life a little easier," Eldad Hagar, founder of Hope for Paws, wrote on Flickr.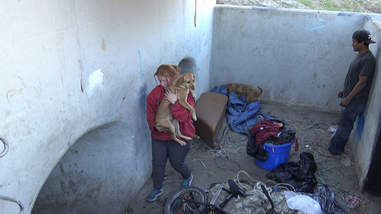 Hope for Paws
One by one, Wilma took the time to say goodbye to each dog ...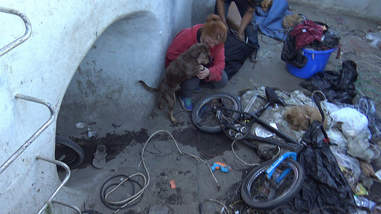 Hope for Paws
... and then handed them up to the rescuers, who were waiting with their van to take them to safety.
Hope for Paws
The dogs clearly loved Wilma, too, and everyone was heartbroken watching the selfless woman say goodbye to the dogs she had taken care of.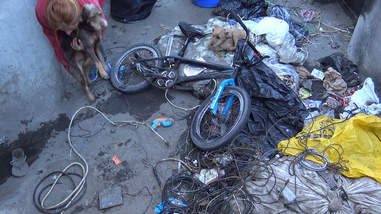 Hope for Paws
Finally, all four dogs were leashed up and ready to go. Just as the rescuers were getting ready to leave with the dogs, Wilma's husband, Ruben, showed up, and told them there were actually three more dogs. He gave them one of the dogs, but the other two were hiding somewhere, and so the rescuers promised they would be back in 48 hours to get them, and to bring food and clothes to Wilma and Ruben.
Hope for Paws
The rescuers took the five dogs they'd been able to save that day to be bathed and checked out, so they'd be all ready to go to their new foster home.
Hope for Paws
When the rescuers returned, Wilma and Ruben were waiting for them with the final two dogs. They all sat together for a while, and the rescuers got to know the amazing couple.
Hope for Paws
"This married couple has been living like this for five years, and they are trying to get their lives back together," Hagar wrote. "They explained how they are relieved not to have to care for all the stray dogs."
Hope for Paws
One of the dogs was reluctant to say goodbye to Ruben, and so he walked her to the car to help her transition to her new life.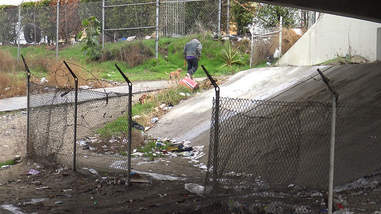 Hope for Paws
Once in the car, the two exhausted dogs fell asleep ...
Hope for Paws
... and when they woke up, they were shocked and thrilled to be reunited with all of their friends again.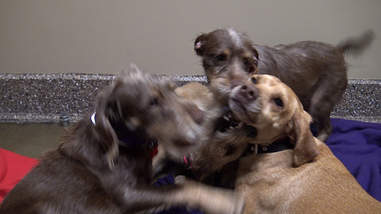 Hope for Paws
The pups were taken in by Rescue From The Hart, and all seven of them were placed in the same foster home. If it hadn't been for Wilma and Ruben, there's no telling what would have happened to these dogs. Now they're safe and sound, and will hopefully have loving forever homes soon.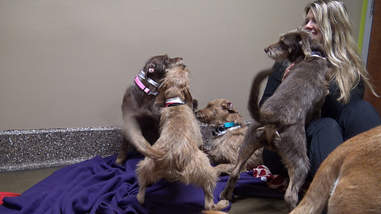 Hope for Paws