Hollywood Chimp Who Spent 17 Years Alone Meets His New Girlfriend
After spending 17 years all alone, there was no reason for Joe - a chimpanzee who once played a role in the 1997 film "Buddy" - to think his life would ever be different.
peta
But what Joe didn't realize was that a lot of people were working hard to make his life better.
After his time in the spotlight was over, Hollywood animal trainer Steve Martin's Working Wildlife - which is listed as an "equipment rental agency" (and has no relation to Steve Martin the actor) - dropped Joe off at Alabama's Mobile Zoo. This was in 1999.
peta
From that point on, a chainlink fence separated Joe from everyone. Visitors threw peanuts at him. Seventeen years passed.
Finally, this year, everything changed for the roughly 25-year-old chimp.
peta
In a Hollywood-esque plot of its own right, animal advocates filed a lawsuit against the Mobile Zoo, and asked for Joe's freedom as ransom.
The zoo had violated the Endangered Species Act (ESA), according to allegations from PETA, by "isolating Joe, a member of a highly social species, in a virtually barren enclosure and allowing visitors to throw peanuts at and harass him."
Save the Chimps
Joe isn't the only lonely animal to come out of Hollywood. Many others out there end up with the same solitary fate, after the spotlight dims. "Chimpanzees used by the entertainment industry are routinely discarded at shoddy roadside zoos like the Mobile Zoo the second they are no longer profitable babies," Brittany Peet, PETA's deputy director of captive animal law enforcement, said in a statement.
But Joe's one lucky chimp. This month, Joe set out on a journey to his beautiful new home, Save the Chimps sanctuary in Fort Pierce, Florida.
He and his team even made a pitstop to meet a special someone: Jane Goodall.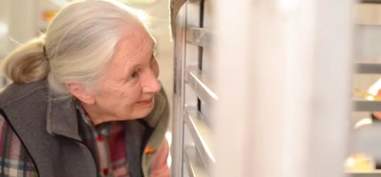 Jane Goodall

| YouTube/PETA
Even though Goodall spoke to Joe in language he could understand, making a lot of "ooo, ooo" sounds, Joe seemed distracted.
"He's not interested," Goodall laughed.
Perhaps Joe was eager to get where he was going. So, the chimp caravan continued.
When he finally arrived at the sanctuary, Joe brimmed with excitement. For the first time in years, Joe would be able to interact with other chimps.
When Joe met Geraldine, his new companion, "he immediately gave her a big hug," a press release said.
Then he promptly started grooming her.
"Joe is a remarkably sweet-tempered chimpanzee and he has adapted extremely well to his new environment," Molly Polidoroff, director of Save the Chimps, told The Dodo. "He has already been introduced to an adult female, Geraldine, and they have spent time together. Just today he met Timmy - another very sweet-tempered adult male chimpanzee - and they have been playing and holding hands most of the afternoon."
PETA
After 17 years of loneliness, Joe finally has the life he deserves.