New Baby Tiger Unveiled To Screaming Stadium Despite Protests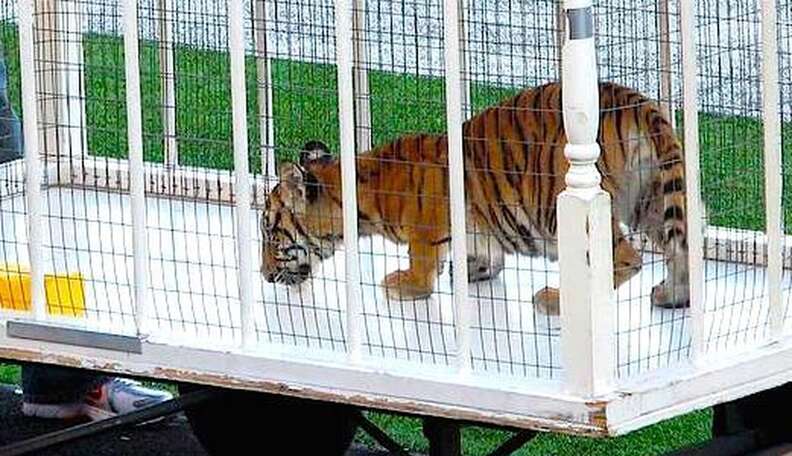 <p><a href="https://www.facebook.com/obietigertaskforce/photos/a.1554483154795112.1073741827.1554479801462114/1554483094795118/?type=1&theater" target="_blank">Facebook/Obie Tiger Task Force</a></p>
<p><a href="https://www.facebook.com/obietigertaskforce/photos/a.1554483154795112.1073741827.1554479801462114/1554483094795118/?type=1&theater" target="_blank">Facebook/Obie Tiger Task Force</a></p>
Footage shows the Massillon Washington High School's new "Obie," a baby tiger kept in a cage and wheeled around a loud stadium. He is the latest victim of a cruel tradition that has gone on for 44 years. The poor cub stands up and puts his paws on the bars of his enclosure as people scream and shout and take pictures.
Because the high school was accused of discarding the tiger cubs after the season is over, it was uncertain whether a new Obie would be unveiled once again. Scandal broke out earlier this year about the legal loophole for educational institutions that allows them to have exotic animals, and a number of petitions protested the tradition.
Despite this, the Massillon Tiger Football Booster Club unveiled a new cub and is keeping facts about this recent appearance private, refusing to disclose where the tiger comes from. "We were only able to make arrangements for [Thursday]," Matt Keller, president of the booster club, told CantonRep.com. "It's a tradition we were able to continue, even if just for one game."
According to the World Wildlife Fund (WWF), an estimated 5,000 tigers are held in captivity throughout the United States; 95 percent of these animals are privately owned, which means it's very hard to monitor their welfare or ensure their health.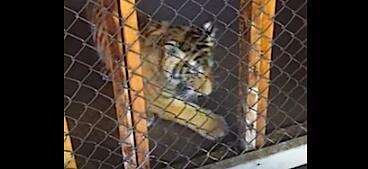 Concerned citizens have said that generations of these once-Obie tigers often wind up caged as roadside attractions, or are sold into private hands as breeding animals, pets or even targets for canned hunting operations, The Dodo reported in February.
But that didn't stop people from cheering at the new Obie on Thursday. "We're really glad he's here. He's been around forever," a fan said (ignoring the fact that each Obie has been a different tiger cub). "For people that live and breathe football, he's a huge deal."
"It hypes you up having [him] here," another fan, who graduated from the high school in 1974 added.
Too bad people need to stick a baby animal in a cage to make them feel alive again.
Sign the petition to stop the cruel "Obie" cycle here.
Watch footage of a previous Obie, all alone and pacing restlessly in his cage, here: