Sudden Betrayal Destroys Vancouver's Captive Breeding Victory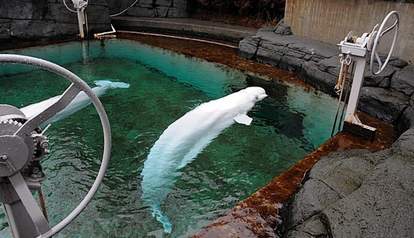 Things just got ugly in Vancouver.
Vision Vancouver, the party of Mayor Gregor Robertson, the one that spoke out against cetacean captivity last May, has publicly dropped its support for the cetacean breeding ban at Vancouver Aquarium that they themselves created. The reversal came just days after the civic election campaign in which activists allied with Vision to rally against their key rival, the NPA, whose party platform included a plan to repeal the cetacean bylaw.
But on Monday, with no warning, Vision began backtracking. It was immediately clear what they were trying to do:
They're trying to kill their own bylaw.. and avoid taking responsibility for doing it.
The details of how and why Vision are abandoning the whales and the advocates that speak for them are ugly and complex. And, as it turns out, mostly unimportant.
The important bits are the implications. If they actually manage to stay true to their word this time, there will be no ban on breeding at Vancouver Aquarium. No independent oversight by animal welfare experts. No improvements for our cetacean friends in sight. And worst, little hope for the aquarium's planned expansion to be stopped, which will ultimately mean more whales and dolphins stuffed into slightly larger tanks.
These were the thoughts in my head when I sat down to write this piece. It was going to be a combination of a eulogy for Vancouver's cetacean bylaw and an emotionally charged condemnation of city politics.
Then I received a copy of another article detailing the breeding ban's imminent demise from the Georgia Straight. The headline didn't tell me anything I didn't already know. Vision backs off on captive breeding ban from Vancouver Aquarium, it read.
I liked my own working title better: Park Board snatches defeat from jaws of victory.
After a quick, self-satisfied glance at their title, I was back to figuring out how to turn vitriol into phrases and clauses.
As I struggled to find more synonyms for the words "cowardly" and "betrayal," I decided to take a closer look at the Straight article to see if they'd managed to find one I had missed.
Instead, I learned about the nothing-short-of-heroic actions taken only hours before by two of Vision's outgoing Park Board commissioners, Sarah Blyth and Constance Barnes. Suddenly, I needed a different set of words, like "hope," "courage," "integrity."
Both women have spoken out publicly against the actions of their own party and are steadfastly refusing to vote in favor of killing the cetacean bylaw.
In the Straight article, Barnes responded to the Vision plan in her characteristic no-nonsense fashion, stating that she will not change her mind and that she's "going to fight this." Blyth told the Straight she would not commit to following her Chair's recommendation, and is "considering all of my options." I have since received a note from her stating that, like Constance, she too is committed to doing the right thing and will not abandon the whales and dolphins of Stanley Park.
I don't know that the two alone will be able to deliver the bylaw safe and sound without support from their colleagues. But that is not what is so important about their actions. Through their actions, they are inspiring the community of Vancouver whale advocates to rise up and keep fighting. They've given us a glimmer of hope that their Vision colleagues will come to see the wisdom of their principled stand and choose to join them. Make no mistake, it is only a glimmer, but thanks to them, it is more hope than we had this time yesterday.
There is no doubt this has not been an easy decision for either of them. They are taking on considerable professional risk in doing so; one does not break ranks with their party without consequences. And while neither sought re-election at the municipal level, both Sarah and Constance are currently campaigning for New Democratic Party (NDP) nominations for the next federal election. Sarah's nomination meeting happens three days from now; Constance's in nine.
So, on the eve of a pivotal event in their respective political careers, while their opponents are out knocking on doors and drumming up support for their personal political aspirations, Sarah and Constance are busy defying Vancouver's political elite and taking a courageous stand for the whales.
It's pretty rare that you meet someone with such conviction and even rarer that the person is a politician. Politicians aren't generally known for their reliability or their ability to keep promises. The first time I met Constance and Sarah, they made the first of two promises to us. They said it was the same promise they would make to the aquarium: they would listen to us.
And they did. Of course, we didn't get the phase out of cetacean captivity that we had been hoping for, but we got at least some progress, along with a second promise: they would stand by this decision no matter what, because it was the right thing to do. They have not let us down.
So now, despite my best efforts, I have yet to find the words that adequately express just how much admiration and respect are due to Constance Barnes and Sarah Blyth.
The final fate of Vancouver's cetacean bylaw will be decided at the Park Board meeting scheduled for the evening of Monday, November 24. A protest is planned.
In the meantime, we encourage you to tweet Constance and Sarah notes of thanks and support at @ConstanceBarnes and @SarahBlyth.