Hero Dogs Flown Around The World For Heartwarming Reunion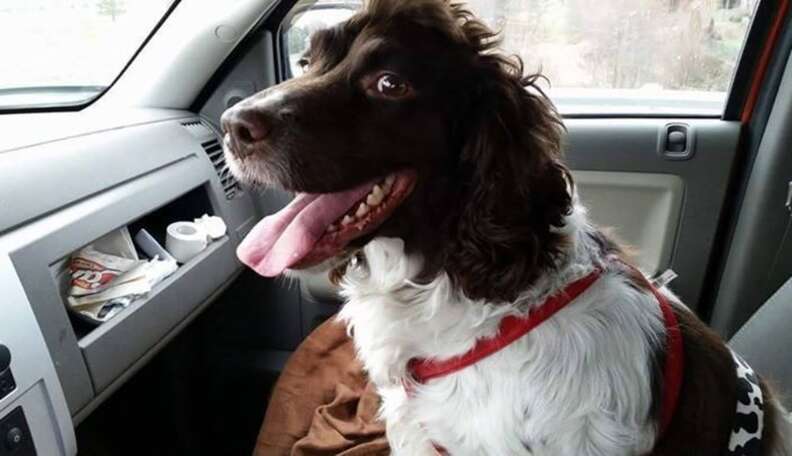 For soldiers who have come to rely on the comfort of warm wet kisses and wagging tails, having to leave a dog overseas when service is over can be heartbreaking. But this Tuesday, nine eager dogs had a happy homecoming when they arrived back in the States to be reunited with their soldier buddies, after traveling for a week on a journey that included stops in Bahrain and Belgium. The dogs were flown to the U.S. after tours of duty in Afghanistan thanks to Puppy Rescue Mission, a non-profit that works to bring dogs home from overseas.
Rudi, Robbi, Randy, Kikay, Toby, Toffee, Zender, Oskar and Lotto are all combat veterans who served alongside their human counterparts. Each of the dogs underwent NATO training to work as bomb-sniffers, performing life-saving jobs detecting and warning soldiers about nearby IEDs.
Kikay on duty (Facebook/PuppyRescueMission)
Dogs have a long history with the U.S. military, doing dangerous and crucial work as well as offering emotional support to servicemen and women, but for many years they were an afterthought. Despite the fact that dogs, like humans, suffer from the emotional and physical aftereffects of war, until 2000 they couldn't even return home to the U.S. According to Collen McGee, public affairs officer at Lackland Air Force Base in Texas, where the military dog training program is housed, they were euthanized after their service.
Thankfully, legislation now makes it possible for those trained military dogs to be adopted into loving homes after their retirement. But these nine dogs were working as contracts, which means they weren't under the same kind of protection as those trained at Lackland, so Rudi, Zender, Lotto and the rest were in danger of being left behind when their service ended.
Lotto is all smiles after being reunited with his handler (Facebook/PuppyRescueMission)
That's where Puppy Rescue Mission stepped in. The organization works to reunite dogs contracted by the military directly with the human soldiers they served alongside. This particular journey involved 100 people along the way, many of them volunteers, and cost about $5,000 a dog, money that was raised through Puppy Rescue Mission's Facebook page.
Anna Maria Chiasson, the organization's president and founder, spoke to The Dodo about the importance of reuniting these dogs with their humans. "Many of these dogs have been with these guys for at least a year, those with their handlers have been with them since they deployed to Afghanistan," she said."The bond they have is truly amazing."
She added that Puppy Rescue Mission doesn't just bring home retired bomb sniffers. "We also work to reunite soldiers with the stray dogs they befriend while deployed overseas," Chiasson said. "For many this is the one thing that can bring a smile to their face thousands of miles away from home. It is that small sense of normalcy that makes everything that much easier to get through on a day-to-day basis."
Rudi, Robbi, Randy, Kikay, Toby, Toffee, Zender, Oskar and Lotto are now safe at home with their new families, looking forward to a retirement full of belly rubs and treats, but Puppy Rescue Mission still has work to do. So far they've brought 700 animals from overseas to reunite them with servicemen and women, but every day the organization gets new requests from soldiers who need help bringing their dogs home.
For Chiasson, it's all worth it. "Seeing these dogs happy on U.S. soil, finally getting to be a dog that runs, plays, barks and relaxes is so rewarding," she said. "You can see the appreciation in their eyes."