Here's What You Need To Know If You're Going To Dress Up Your Pets
"The most important thing to consider when dressing your pet up for Halloween is safety," Dr. Louise Murray, vice president of the ASPCA Animal Hospital, said. "Watch out for any signs of stress or anxiety when you put a costume on your pet. If your pet hates her costume, don't force her to wear it! A nice orange bandana or bow tie is a happy alternative to a full-fledged costume."
Even if your pets aren't taking part in the masquerade, you still need to keep them in mind if you're having hordes of trick-or-treaters or a halloween party. Animal behaviorist KC Theisen warns that "the things that make Halloween a treat for people - noises, smells, trick-or-treaters at the door and people in costumes -can overwhelm many pets ... While you're enjoying the fun, make sure your pets have a safe haven in a room where they can feel safe, comfortable and relaxed - and that they are tucked away from any hazards."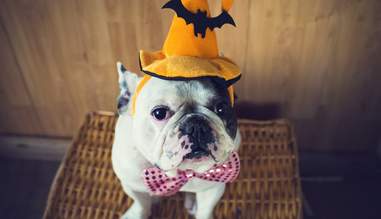 Shutterstock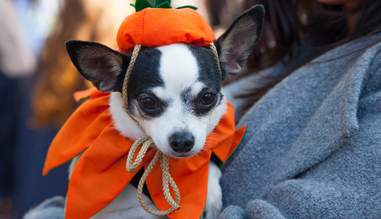 Dog at the annual Tompkins Square Halloween Dog Parade in New York City.

| Donald Bowers Photography/Shutterstock
Shutterstock