Here's What You Can Do to Help Oregon's Delisted Wolves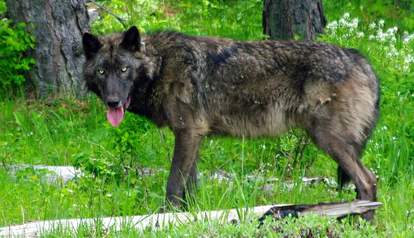 <p> <strong></strong>ODFW<span></span> </p>
The Oregon Department of Fish and Wildlife (ODFW) voted recently to strip Oregon's 81 gray wolves of state endangered species protections.
What does this mean to Oregon's wolves?
In northeast Oregon, where most of the state's wolves live, ranchers can still only shoot a wolf caught in the act of wounding, biting, killing, or chasing livestock. The state still makes non-lethal deterrence the first choice for resolving conflicts between ranchers and wolves. Wolves remain fully protected in the western two-thirds of Oregon under the federal Endangered Species Act.
What does this not mean to Oregon wolves?
Oregon wolves can still not be hunted anywhere in the state. However, delisting from the state's endangered species protections is a step towards allowing hunting in the future.
Removing wolves from state endangered species protection does not mean that killing wolves is acceptable. The maximum penalty for poaching a wolf is up to a year in jail and a $6,250 fine.
Russ Morgan, wolf program manager for ODFW, says that delisting wolves will result in no immediate changes to wolf management, since management is guided by Oregon's Wolf Plan and not Oregon's Endangered Species Act.
What does this delisting mean to conservationists?
To delist wolves from the state's Endangered Species Act, ODFW had to show that wolves were not in danger of extinction or a population failure. The agency says it did that. Conservation groups say ODFW did not.
"At a minimum," says Sean Stevens, Executive Director of Oregon Wild, "it appears ODFW and the Fish and Wildlife Commission ignored state law and requirements for independent scientific review in making their decision."
What can you do to help Oregon's wolves?
I received an email from Stephanie Taylor, Wildlife Organizer for Oregon Wild - an organization that I admire and respect. Here are her three suggestions:
1. File a comment with Governor Brown via website or by calling (503) 378-4582.
2. Write a letter to the editor for your local newspaper. Here are talking points:
There are only 81 known wolves in Oregon.
The scientific process required by law to justify removing protections was rushed, though the Commission had been urged back in April to seek independent review. Supporting documents were not available to the public until after the Commission meeting had already started.
Half of the science reviewers were hand-picked from Idaho Fish and Game, an agency that does not have a good reputation for wildlife management or integrity.
The scientific feedback wildlife staff received is insufficient and does not meet the standard of "vigorous independent review." It is nothing more than some side notes on the original document, which were never taken into consideration or incorporated into the final report.
Governor Kate Brown's recent appointments to the Wildlife Commission have been a disaster. Jason Atkinson hasn't attended the last two Commissioner meetings, while Bruce Buckmaster has been openly hostile and disrespectful to wildlife advocates.
3. Sign up to join the Oregon Wild Ones. Get updates on action alerts and upcoming trainings. Email Stephanie@oregonwild.org to get on her email list.
The battle to save Oregon's wolves is not over. Though the decision by ODFW is disappointing to say the least, we must continue to help these smart, tenacious, and essential predators survive. Thanks for whatever you can do.
Rick Lamplugh lived in Oregon for 35 years and now lives near the north gate of Yellowstone. He is the author of the Amazon bestseller "In the Temple of Wolves: A Winter's Immersion in Wild Yellowstone." Available as eBook or paperback. Or as a signed copy from the author.
Photo of wolf from Oregon's Mt. Emily pack.