7 Helpful Tips For Keeping Your Pet Safe On Halloween
Before you decide to slap a bunny costume on your four-legged friend, remember to use caution on this festive night. Here are some pet-friendly tips to keep in mind before the ghouls come out to play.
1. Place the candy far out of reach.
Shutterstock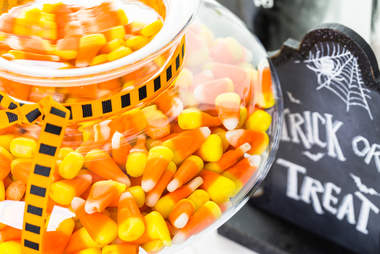 Shutterstock
The streets are filled with sweets and treats on Halloween night, and it might be tempting to drop a Snickers bar or two in front of your pet as a special snack, but that candy can have harmful effects. Many foods like chocolate and gum are hazardous and can cause severe issues, even death, in animals. Other candies contain a sweetener called xylitol that can be fatal if ingested by dogs and cats. Also, while pumpkins might not cause lasting damage - fresh ones can actually be good for animals - too much of one can make your pet sick for days, so it's best to keep them away from the jack-o-lanterns around the house.
Check here for a list of foods that are best kept away from your pets.
In case of emergencies, be sure to call the ASPCA Animal Poison Control Center hotline: 888-426-4435.
2. Keep your cats indoors - and your dogs, too.
Shutterstock
Shutterstock
While the image of a black cat feeds into many traditional Halloween decorations and tales, the painful reality is that pets are extremely susceptible to harm around Halloween. Many people fall prey to superstitions and prank them out of misplaced fear, while others simply get lost in the melee going on in the streets. It used to be so bad in certain areas that some shelters refused to allow adoption of black cats around Halloween, though most of them have stopped that superstitious behavior.
Regardless of color or size, it's best to keep your pets indoors and away from the front door at all times on Halloween night, just to be safe. Aside from pranksters, stampeding kids could unwittingly step on them, or drop candy that your pet could snatch up and eat. The sheer amount of people roaming about poses a threat in itself, as anyone could frighten your dog or cat - possibly provoking them into defending themselves. Also, an identification tag is always a great idea in case a pet manages to sneak past you through the front door.
3. Put candles above-ground - even if they're inside a pumpkin.
Shutterstock
Shutterstock
While eating a piece of pumpkin might not harm an animal, that burning candle you use to light it up certainly can. Like any other flame, you'll want to make sure it's out of reach of even the sneakiest dog or cat in the house to avoid burns on the fur, skin and even on the mouth in case they decide to eat it. Candle wax can also cause vomiting and diarrhea. Many stores sell battery-powered lights that you can stick inside your pumpkins to light it up, making it an excellent and safer alternative.
4. No kissing (or licking) the face if it's covered in makeup.
Shutterstock
Shutterstock
If you plan on terrorizing the town as a zombie or entertaining the kids as Bozo the clown, make sure you avoid contact with the pets after you put on your makeup. The chemicals in face paint and fake blood are often toxic and many of them contain high levels of lead, which can lead to poisoning in both humans and animals. That means no slurpy kisses until after the festivities end and you've had a chance to shower!
5. Keep your pets away from the noisy front door.
Shutterstock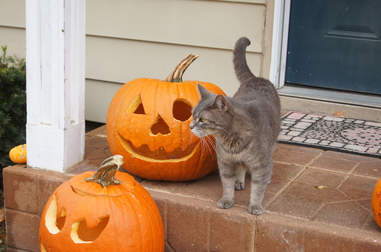 Shutterstock
Visitors can often cause stress in animals, particularly territorial ones. Since an endless stream of little monsters will be parading up your walkway on Halloween night demanding treats, it might be best to find a safe room away from the chaos for your pet. A ringing doorbell can also cause anxiety, so an alternative to waiting for them to come to you is to wait on the front porch. That way you can watch all of the festivities and your pets will be safe inside away from the noise.
6. Be mindful of where you hang your decorations
Shutterstock
Shutterstock
Halloween decorations are not chew toys, but try telling that to the family dog. It's important to keep decorations, whether they be lights, blow-up ghosts or dangling spiders, out of reach. Aside from the obvious dangers of ingesting material that's not meant to be eaten, some of the smaller decorations can pose a real choking hazard.
7. Dressing up is for humans - not animals!
Shutterstock
Shutterstock
It's incredibly tempting to buy that hot dog outfit to put on your Dachshund on Halloween night, but stressing your dog is not worth a cute Instagram photo. Dogs will do just about anything to please their two-legged friends, so it isn't always apparent when they're uncomfortable. Many dogs (and cats) become stressed when forced into stuffy and uncomfortable clothing. They're best left in their natural state, where they're free to run and not in danger of over-heating, being smothered, or getting tangled up in their costume. Plus, they're already adorable without the costume, anyway.