Helpful Baby Shows His Pit Bull Sister How To Play With Toys Like A Pro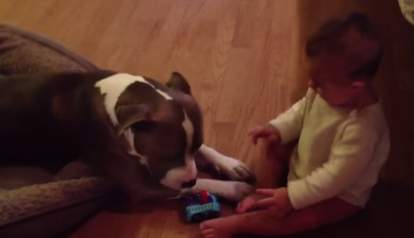 Friends teach friends how to cut loose and have a good time. And that's exactly what baby Elliott intends to do when playing with his pit bull sister, Gemma. The two have had a a playful and sweet relationship since Elliott was born, and have enjoyed many play sessions together.
Elliott makes sure that Gemma hasn't forgotten about her purple octopus and how awesome it is, because he's super helpful that way.
And you simply can't forget about the toy truck. Elliott tries to psych Gemma up by demonstrating just how cool the truck is. Just check out the awesome rolling capabilities!
... But maybe in the end, the best way for these two friends to pass the time together is just hanging out in a comfy spot.
Pit bulls often get a bad rap for being violent and aggressive when they can actually be some of the sweetest, most patient dogs out there. That said, it is always important to take certain precautions when introducing your pup to children, and to always supervise the interactions closely. It is also extremely beneficial to teach your dog how to behave around children, which can be accomplished through these tips from ASPCA.
You can watch the full toy showcase below: