The Turkish company Pugedon created an innovative vending machine, which purpose is to help both the environment and our furry friends - dogs and cats, living on the street. How? It's so simple - when you put a plastic bottle in to recycle, the machine leaves а dish of food for a homeless animal.
The Pugedon Smart Recycling Box
This unique vending machine, called The Pugedon Smart Recycling Box, is placed in Istanbul and is a part of an Eco Project. The goal is to stimulate people to keep the environment clean by helping an animal. The company believes that people love to all innocent living creatures will ring the bell of humanity and will help preserving our Planet.
Pugedon company explains: The Pugedon Smart Recycling Boxes operate at no charge to Istanbul and all citizens. All recycled bottles cover the cost of the food and cost nothing to the government.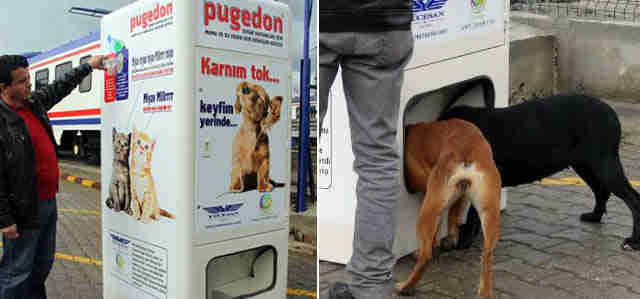 A Pugedon Smart Recycling Box provides not only food, but also fresh water for the stray dogs and cats. They are a source of sustenance to the homeless animals and help them to survive the unpleasant street conditions. The city of Istanbul is popular with its large numbers of stray animals - over 150 000 stray dog and cats inhabit the Turkish capital. As many citizens and city visitors complain that the homeless cats and dogs are sources of diseases, their life is not always happy.
The huge number of the stray animals and these constant complaints have even led to enact a new law, which requires thousands of homeless animals to be transported to a "wildlife park", in order to remove them from the urban environment. This is, of course, a stressful situation for all stray dogs and cats who have adapted to their home - the Istanbul streets.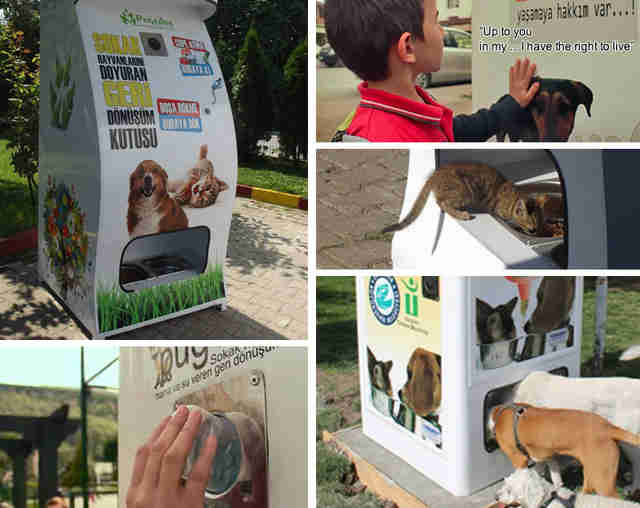 And this is one of the reasons for this project to be created - to save innocent animal lives and protect them from this cruel law. Still most people enjoy their company and are glad to feed them, especially when saving the environment at the same time.
Sources: