Pit Bull Was Dumped By Dogfighters Halfway Across The World
<p><em>Joey Mjahed</em><span></span></p>
Cydney Cross receives roughly 1,000 emails and phone calls every week from people looking for help with unwanted and abandoned pit bulls. As cofounder of Out of the Pits, a nonprofit rescue group based in Albany, New York, this is to be expected.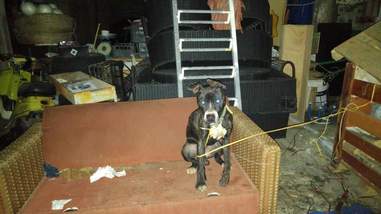 Hero in Lebanon before he got the help he needed

| Joey Mjahed
But one recent email in particular jumped out at her. A stray pit bull across the world in Lebanon needed immediate intervention - so he wouldn't be forced into the country's dogfighting scene.
Spotted in the streets of Hosrayel, a small municipality in the Jbeil district, the pup, later named Hero, was suffering from a grave injury to his front leg.
Long before the plea was sent to Cross all the way in New York, Joey Mjahed, a 21-year-old animal activist in Lebanon, stepped in to help the dog, whom he had heard about through a friend. He combed the city's streets until he found Hero and brought the badly injured stray to a local veterinarian. As it turned out, Hero's leg was broken in several places and would need to be amputated, according to the veterinarian.
Because Lebanon is known for its dogfighting rings and pit bull breeding, Mjahed believed the scars on Hero's body and mouth were an indication that the pup had already been a victim of this blood sport.
Mjahed made it his mission to get Hero the surgery he required, and enlisted a network of friends to help.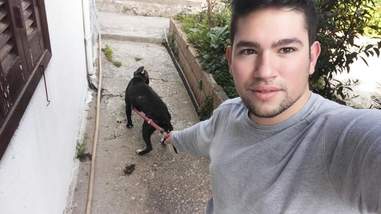 Animal activist Joey Mjahed took action to help Hero.

| Joey Mjahed
Hero in Lebanon shortly after his surgery

| Judith Jallad
So, a friend of Mjahed, Judith Jallad, started reaching out to rescue organizations all over the world. No one answered her.
And then, Cydney Cross received her email from Mjahed.
Hero proved to be a sweet and friendly dog despite his past.

| Judith Jallad
Because Out of the Pits relies solely on donations, the cost of getting Hero to the U.S. proved challenging. Cross told Mjahed that if he could get Hero to her, she would take him.
In the meantime, Lisa Feigen, a friend of Mjahed's, fostered Hero before and after his surgery, until Hero was able to fly to the U.S.
So, Mjahed and his friends immediately began seeking donations for airfare to get Hero to the U.S. - and they were able to raise $1,000.
Hero still had to fly from Beirut to the U.S. via Frankfurt, Germany - and while exporting what is considered a dangerous breed is allowed, a specific crate had to be built to get Hero through the country.
Mjahed and his team then needed to build this special crate to accompany Hero on his journey. Upon seeing the finished product upon his arrival, Cross half-jokingly referred to it as "the Hannibal Lecter crate." (The character Hannibal Lecter, in the film "The Silence of the Lambs," infamously wore a metal mask with bars covering his mouth.)
Hero spent eight hours in this crate while flying from Germany to the United States.

| Cydney Cross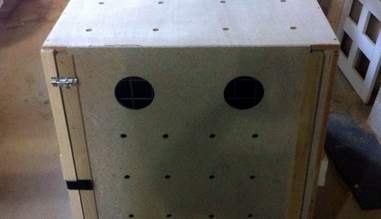 Cydney Cross
Two Out of the Pits volunteers waited for Hero's arrival at the John F. Kennedy Airport in New York City, and immediately removed him from his confinement. Finally, after a three-hour ride to his new foster family's home, Hero got to feel the grass under his feet.
"When he got to his foster home, he ate a wonderful dinner and settled into bed right away," Cross told The Dodo.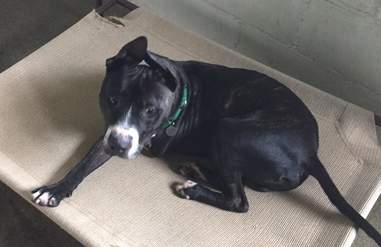 Hero in his new bed

| Cydney Cross
"It's like he'd always been there!" said Cross. As a certified therapy dog trainer and former veterinary technician with more than 20 years of experience, she immediately observed positive behavior from Hero. For a dog who had endured so much hardship, she found him to be loving, outgoing and responsive to training.
Hero is thriving in his foster home

| Cydney Cross
Now, Hero is up for adoption. Cross considers him to be a miracle and a blessing. "We work locally first, but certain stories tug at your heartstrings and, when all falls into place, we feel it's meant to be," Cross said.
She is very grateful to all the young people around the world who desperately wanted to save Hero, a dog who had no hope. "They put hope into action and did everything they could do to get him here and that is quite amazing," she said.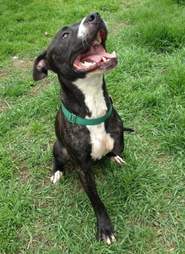 Hero is ready for adoption!

| Cydney Cross