Here's What You Can Do To Save Animals Over The Next 4 Years
We can all pitch in to help them.
No matter your political party, many people are worried - and have been worried - about what the future holds for animals and the environment.
While the shift in power might change some priorities, people are hopeful that we can all put aside our differences to keep our planet healthy for future generations.
"Having an executive and legislative branch both controlled by Republicans may make environmental and animal welfare work more difficult, but it was also Richard Nixon who signed into law the Endangered Species Act and George H. W. Bush who signed into law the Wild Bird Conservation Act," Adam M. Roberts, CEO of Born Free USA, told The Dodo. "Senator Mitch McConnell (R-KY) has been the lead champion on bipartisan legislation to stop the trade in bear parts and in this most recent Congress Congressman Mike Fitzpatrick (R-PA) has sponsored legislation to stop the trade in primates as pets."
The president of the United States has direct oversight over most federal agencies, like the U.S. Department of Agriculture (including the U.S. Forest Service), the Environmental Protection Agency (EPA), the Bureau of Land Management, the Department of the Interior (which includes the U.S. Fish and Wildlife Service and National Park Service) and the U.S. Department of Commerce (including the National Oceanic and Atmospheric Administration).
"These federal agencies have sweeping powers over animals not only in the United States but also all over the world," Stephen Wells, executive director at the Animal Legal Defense Fund (ALDF), told The Dodo. "That power includes the authority to enforce - or not to enforce - the Animal Welfare Act, the Endangered Species Act, the Marine Mammal Protection Act, the Clean Air Act, the Clean Water Act and many other laws that protect animals and our environment."
Some people are concerned about what president elect Donald Trump will do. In September, he modified his previous statement that he would eliminate the Environmental Protection Agency (EPA) to say that that he'll "refocus the EPA on its core mission of ensuring clean air, and clean, safe drinking water for all Americans."
Fair goals. But scientists and activists alike know that the planet needs a lot more than that, especially since, according to the U.S. government, 14 of the 15 warmest years on record have occurred since the year 2000. This causes rising sea levels, which can wreak havoc on coastlines, while rising temperatures disrupt ecosystems and threaten the very existence of species.
Other advocates are concerned about factory farming's effect on the environment (it is one of the largest contributors to climate change, more than all transportation emissions in the world combined) and its impacts on animal welfare. Still others are worried about the welfare of dogs in puppy mills and cats in kitten factories.
"As with any president, it is essential that animal advocates pay close attention to the president's appointees to lead these federal agencies," Wells said. To lead the EPA, Trump is considering Myron Ebell, known skeptic of climate change, who is currently running the EPA working group on Trump's transition team. And for the secretary of the interior, he's considering an oil man, Forrest Lucas of Lucas Oil.
"No matter one's political affiliation, animal and environmental advocates will need to watch these appointments and resulting federal policies closely," Wells said.
Here are some organizations that are fighting now - and will continue to fight - for animals and the planet.
"Given the threats we face, and specifically threats to the rule of law and the preservation of the environmental laws themselves, nonprofit advocacy groups are needed now more than ever," Brett Hartl, endangered species policy director for the Center for Biological Diversity, told The Dodo.
The Animal Legal Defense Fund
The ALDF fights to protect the lives of animals through the legal system, filing high-impact lawsuits to protect animals from harm, supporting tough animal protection legislation and fighting legislation harmful to animals.
"The Animal Legal Defense Fund will continue fighting to expand protections for animals, and we will also fight hard to ensure that existing protections are not weakened or repealed," Wells said.
Born Free USA
Born Free USA works to end the suffering of wild animals in captivity, protect wildlife and endangered species and support global conservation. Some of Born Free USA's current causes involve conservation of endangered species and supporting an end of captive tiger breeding for tourist attractions and selfies.
According to Born Free USA, we need to be asking some key questions about upcoming cabinet appointments. "Will the secretary of the interior support wildlife conservation or a free market approach to commercializing elephant ivory and rhino horn and lion trophies?" Roberts said. "Will the secretary of agriculture support a regulatory end to the breeding of captive tigers for photo opportunities or consider this a regulatory burden on small businesses?"
The Center for Biological Diversity
Through science, law and media, the Center for Biological Diversity works to "secure a future for all species, great and small." This mission means protecting the lands, waters and climate that species need to survive.
"Donald Trump has said he'd eliminate 70 percent of EPA regulations," Hartl said. "Every endangered species is protected by a separate regulation ... 70 percent of all listed species would be delisted."
Defenders of Wildlife
Defenders of Wildlife works to help native species in the U.S. by promoting policies that protect animals and fighting in the courtroom against policies that threaten to take away protections.
According to the organization: 90 percent of American voters support the Endangered Species Act. Seventy-four percent say that the federal government should be doing a substantial amount to combat climate change. And 72 percent say that national public lands, like forests and monuments, help their state economies.
"Wildlife is depending on us - and we will not let them down," Jamie Rappaport Clark, president of Defenders of Wildlife, said.
The Humane League
To reduce animal suffering, The Humane League is focused on recruiting and training grassroots activists in U.S. and Mexico who can educate the public on animal protection, effective activism and reducing meat consumption- which is good for animals, people and the environment.
The Humane League recently secured commitments from a major food corporation to better conditions for their chickens, and is still fighting the good fight to help more factory farmed animals go cage-free.
The Humane Society of the United States
One great thing that happened on election day this week? Massachusetts voters stood up for farm animal rights after activists, veterinarians and farmers came together. One of the organizations that fought for this was the HSUS.
That's because the HSUS supports a vast array of initiatives to fight for animals in puppy mills, dog-fighting, factory farming, canned hunts and the wildlife trade.
Oceanic Preservation Society
Through collaborating with artists and activists, OPS tries to raise awareness for endangered species and the environment, especially oceans and ocean life. Recent projects include Racing Extinction, a documentary about the the stress and strain human activity is inflicting on animals across the world.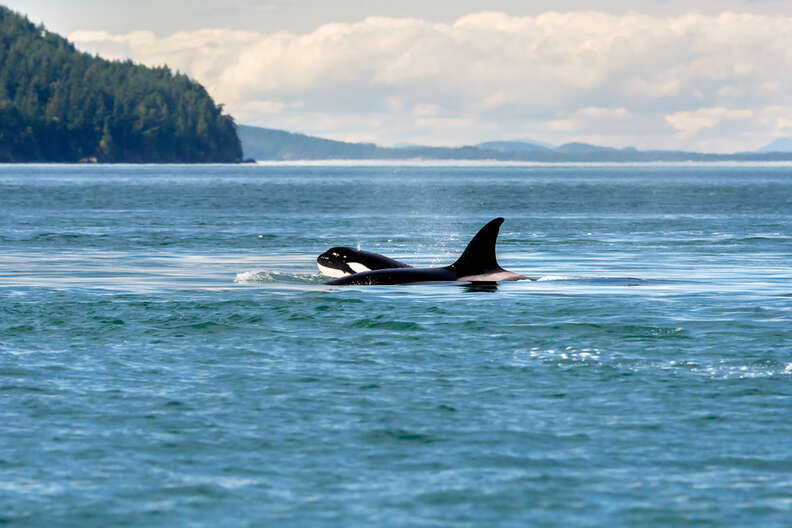 WildEarth Guardians
To help people and animals, WildEarth Guardians protects and restores the wildlife, wild places and wild rivers across the U.S., with a special focus on the American West.
"It will be absolutely essential that we all make clear that those laws are to remain on the books (Endangered Species Act, Clean Water Act, Clean Air Act, National Environmental Policy Act, for example)," Bethany Cotton, wildlife program director for WildEarth Guardians, told The Dodo. "We're also going to have to take action on these issues at the state and local levels ... Climate activism will need to pivot (even more) to divestment and local action."
There's reason to hope for real progress, even if times are uncertain.
"Animal welfare and conservation and environmental campaigns will forge ahead because the risk of imperiled species going extinct is too great not to persevere," Roberts said. "Animal welfare is a bipartisan issue and we hope to continue achieving for animals over the next four years."
With your concern and willingness to speak up for animals, no matter your party affiliation, we've got this.