UPDATE: Jack has been adopted! The shelter shared the happy news along with a photo of Jack and his new mom.
Sometimes a photo says everything there is to say about what's going on in a dog's heart - this senior dog is so frightened and alone in the Virginia shelter where he's living that he can't even turn to look at his rescuers.
"Jack is so dejected and scared that anytime we enter his kennel, he puts his face in the corner and we have to pick him up to take him outside," staff at the Gloucester-Mathews Humane Society wrote.
The 12-year-old Lab mix wound up at the shelter "through no fault of his own," and it's clear that he hasn't had an easy life.
"I believe Jack was mostly an outside dog and likely has not had much human touch or compassion. We do not think he was abused, because he does not seem fearful of touch, but almost as if he does not know what to make of it," the shelter wrote in a post that was shared on the Susie's Senior Dogs Facebook page.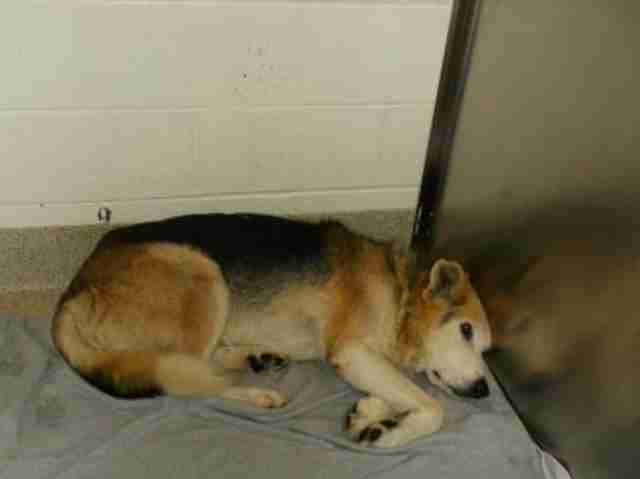 This sweet old man needs to get out of the noise and chaos of the shelter - and to find a family who will give him love and stability. He has some health issues, but more than anything he needs someone to teach him not to be afraid.
He's certainly got the potential to be a loving, happy dog - his sweet personality peeks through on walks outside, when he begins to perk up.
"Our boy needs a retirement home," the shelter posted. "... he is so depressed, we want him to get into a permanent home. Would you please help us find Jack a home where he can rest peacefully and find all the love he has missed?"
There's some happy news for Jack though - the shelter told The Dodo that, thanks to the attention on Facebook, they've already gotten a "couple dozen" applications for his adoption. He may be well on his way to a forever home.
There are lots of other senior dogs just like him who still need homes, though - if you're ready to add a dog like Jack to your family, visit your local shelter or search on Adopt-a-Pet.com.