"Does anybody like dolphins?" the heartthrob vocalist asked the crowd, gathered just fifteen minutes from SeaWorld's San Diego location. "Don't go to SeaWorld."
Maisie Williams, who plays Arya Stark on HBO's "Game Of Thrones," posted the video of Styles to Instagram. After the concert, Williams also posted a photo of her and All Time Low's Alex wearing Dolphin Project T-shirts and urged her followers to sign a pledge to not buy tickets to any dolphin show. (At the time this article was published, there were 30,788 pledges.)
Lincoln O'Barry of The Dolphin Project told The Dodo that SeaWorld isn't the only place where dolphins are performing in captivity.
"We've reached a turning point," said O'Barry. Dolphin activists no longer represent the fringes of public opinion. "Ringling Bros. [Circus] saw the writing on the wall. SeaWorld doubled down on their position."
He noted that SeaWorld has been amping up its advertising campaign and reminding people of its rescue efforts. However, O'Barry said any animals that SeaWorld rescues have "nothing to do with the animals performing in captivity." Those are the animals in "dire need of rescue," said O'Barry.
This wasn't the first time that Styles and Williams have shown support for our warm-blooded friends of the ocean. Styles has tweeted about "The Cove" documentary, which features the work of The Dolphin Project. Additionally, Styles has sported a shirt from the advocacy group.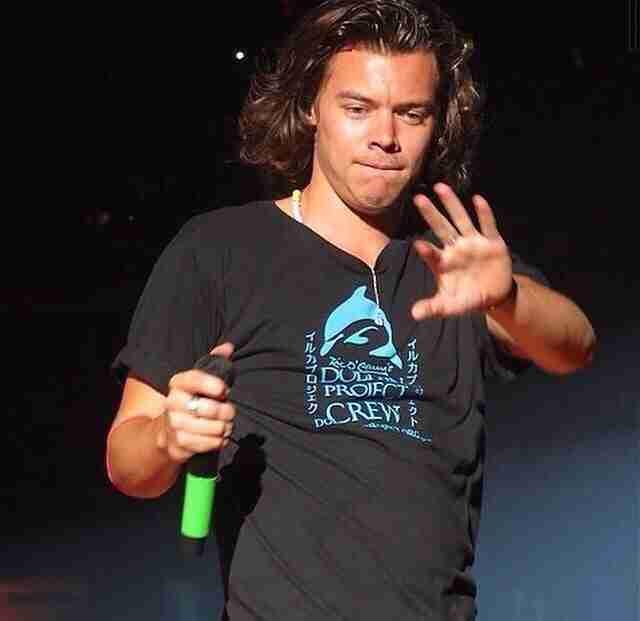 In addition to being a star on Game of Thrones, Williams is also a Dolphin Project ambassador. Previously, she has raised awareness and funds for the Project by skydiving 15,000 feet out of an airplane.
Shortly after Styles' comment on Thursday night, #dontgotoseaworld was trending worldwide on Twitter. And the Twitter conversation began:
This Twitter user suggested that Styles may be part dolphin.
This SeaWorld supporter got feisty.
Other celebrities joined the #DontGoToSeaWorld cause.
In the letter, SeaWorld told Harry that, "We want you to know we love dolphins too. We care for the animals in our parks like we would our own family." Is SeaWorld suggesting that they keep their own family members in captivity?
By sending this letter, SeaWorld joins the ranks of many fans who have sent letters to One Direction over the years: They will most likely never receive a letter back.
If SeaWorld sincerely wants a response, they should consult this WikiHow page on "How to Get One Direction to Read your Fan Mail and Reply."
If you want to learn more about The Dolphin Project, you can read more here and follow Lincoln O'Barry on Twitter.