Harapan and the Fate of the Sumatrans
I fell in love with rhinos thanks to Emi, the sweet and gentle Sumatran Rhino who lived at the Cincinnati Zoo. Recently I had the amazing opportunity to meet Harapan, her son and one of the few remaining of his kind.
Harapan is 7 years old, the youngest of the three offspring birthed by Emi. Big brother Andalas is now at the Sumatran Rhino Sanctuary (SRS) in Indonesia, and his sister Suci passed away in March of this year.
Harapan preparing for this morning routine: health check complete with a distraction of fresh fruit.
Harapan is an avid traveler, having lived for a brief time in zoos in Florida and California. In July of 2013 he returned to Cincinnati in hopes of breeding him with his sister Suci. With Sumatrans teetering on the brink of extinction, it was a desperate attempt to help further the species. The move proved to be too late, as Suci passed away only 7 months later of Hemochromatosis (iron storage disease).
Paul Reinhart is the team leader in the Ungulate Department in the zoo. He has worked with rhinos for over 30 years, witnessing the comings and goings of Emi and her offspring. Paul recalls when Harapan returned to the zoo in 2013. Harapan seemed to know he was home, walking out in the yard, and rolling contentedly in the mud.
Paul Reinhart Indeed, he seemed very relaxed and downright spoiled at times, ears pivoting back and forth as he listened to his familiar friend talking. If he wasn't in on the conversation, Hary would toss his enormous head toward the bars of the enclosure, banging and impatiently squealing until he had our attention.
Hary obviously loves people, and seems to thrive on the compliments, pats and rubs the staff heap upon him.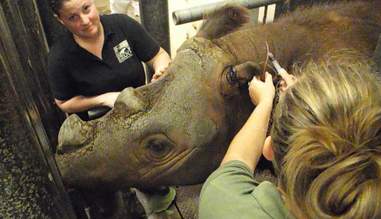 Each morning Harapan has blood taken to monitor his health. Since his sister and mom both passed away from Hemachromatosis, monitoring is crucial.
Mudbaths and produce are high on Harapans list of day-to-day highlights. But what is in his future?
The obvious answer seems to be to send him to Sumatra, the same SRS where his brother Andalas now lives. With the species so perilously close to disappearing, it seems the only option.
Dr. Terri Roth, zoo veterinarian, VP of conservation and science and CREW director, stated "The only chance for Harapan to reproduce seems to be at the SRS so that is the driving reason for suggesting he go there. However, Indonesia needs to let me know that they want him first and the LA Zoo actually partially owns him so they also have to be in favor of the idea."
Dr. Terri Roth CREW is a research facility in the zoo, dedicated to saving endangered plants and animals from extinction. They utilize research, propagation, in situ protection, education and public engagement to save targeted plants and animals. At the heart of the program lies the Cryobiobank, known scientifically as a genome resource bank. Here there are hundreds of plant and animal species stored. These frozen specimen include Sumatran samples.
Does this change the future? Will we see some sort of "Jurassic Park" scenario of bringing back species from extinction?
Dr Roth says " I think if we lose the species it will be gone forever. If a small viable population continues to thrive, we may someday be able to infuse new genes into the population using the samples we have stored at CREW."
But ultimately as Roth states "The fate of the Sumatran Rhino lies in Indonesia's hands now."