Jane Goodall Writes A Letter To Zoo Director After Gorilla Is Killed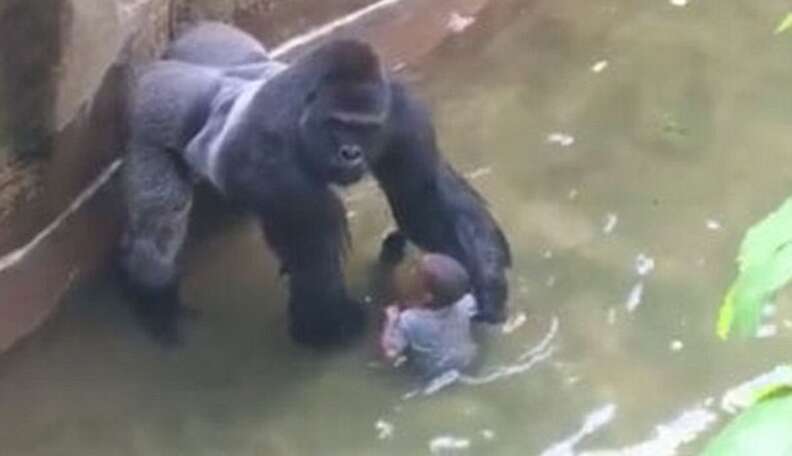 <p><a href="https://twitter.com/Animals1st/status/737332282550321152/photo/1?ref_src=twsrc%5Etfw" target="_blank">Twitter/Animals1st</a></p>
<p><a href="https://twitter.com/Animals1st/status/737332282550321152/photo/1?ref_src=twsrc%5Etfw" target="_blank">Twitter/Animals1st</a></p>
Many disagree about whether or not Harambe was a threat to the child. But one noted luminary in the world of primates, Dr. Jane Goodall, has suspended making a judgement, for now. While she's made no official statement of her position on the incident, Goodall did write a letter to Thane Maynard, the director of the Cincinnati Zoo.
"Dear Thane," Goodall wrote,
"I feel so sorry for you, having to try to defend something which you may well disapprove of. I tried to see exactly what was happening - it looked as though the gorilla was putting an arm around the child - like the female who rescued and returned the child from the Chicago exhibit."
In what could be interpreted as showing a bit of doubt about the decision to shoot the endangered animal, Goodall is referring to what happened at the Brookfield Zoo in 1996: A 3-year-old boy fell into Binti Jua's enclosure and she protected him, while carrying her own baby on her back.
The defense she refers to is Maynard's statement after the loss:
"We are heartbroken about losing Harambe, but a child's life was in danger and a quick decision had to be made by our Dangerous Animal Response Team. Our first response was to call the gorillas out of the exhibit. The two females complied, but Harambe did not. It is important to note that with the child still in the exhibit, tranquilizing the 450-pound gorilla was not an option. Tranquilizers do not take effect for several minutes and the child was in imminent danger. On top of that, the impact from the dart could agitate the animal and cause the situation to get much worse."
Goodall's letter continues on to show concern for those suffering in the aftermath: "Anyway, whatever, it is a devastating loss to the zoo, and to the gorillas," Goodall's letter continued. "How did the others react? Are they allowed to see, and express grief, which seems to be so important."
As anger rages against the parents of the boy, the zoo and animal captivity in general, Goodall shows that there's a way to raise a question, while also being compassionate to everyone mourning the loss of a much-beloved individual.
"Feeling for you," she signed the letter, "Jane."
Have a tip? Email sarahv@thedodo.com.