They call her Baby, but she's endured more struggles than many have in a whole lifetime.
Tallgrass Parrot Sanctuary.
Baby is totally bare on the belly because, in a state of anxiety, she plucked her feathers so much in her previous home. They'll likely never grow back. And Baby's mangled feet will always be a reminder of where she comes from.
"Her owner was a breeder/hoarder," Kail Marie, founder of Tallgrass Parrot Sanctuary in Kansas, explained. "If you see her feet you'll see that they are at a 45-degree angle. When Baby was still young she was not given perches and had to hang on the side of her cage. Her leg tendons slipped pulling her feet up like that."
Because she got no medical help, Baby's bones fused.
Now she can't perch at all.
Tallgrass Parrot Sanctuary
"She is crippled and unable to use her feet," Marie said. "We have to keep her on a padded surface to keep her from developing pressure sores on her hocks."
Tallgrass Parrot Sanctuary
Despite her handicap, in her new life at the parrot sanctuary, Baby's spirit soars.
"What she is missing in feather," Marie said, "she makes up for with a very big personality!"
Tallgrass Parrot Sanctuary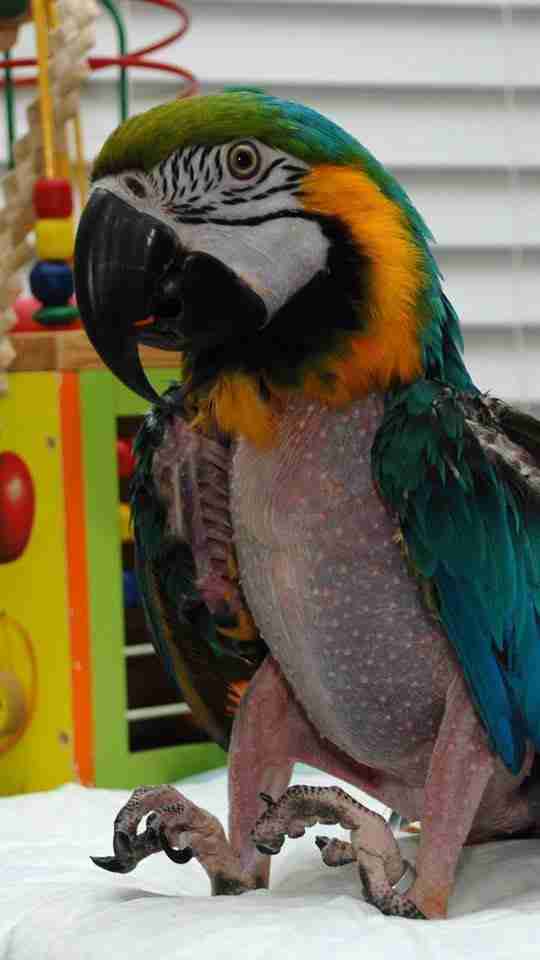 Baby, who keeps warm during cooler temperatures in sweaters made just for her, has found a forever home with other colorful characters like her at the sanctuary.