Hollywood Animal Trainer Brags About His Violent Methods
This is the sad reality of animals in film.
Last month, a video was released showing Michael Hackenberger, a well-known Hollywood animal trainer whose credits include "Life of Pi" and the "The Interview," appearing to repeatedly whip a young tiger during training.
"I like hitting him in the face," he says in the footage, nearly giggling as he describes his method for beating the tigers' paws so "it stings more."
At the time, Hackenberger denied whipping the tiger and said the video was selectively edited. But a compilation of additional footage, released by PETA on Thursday, shows Hackenberger talking in detail about how he likes to hit his animals.
"I can carve my initials in their side," he says of whipping, apparently shortly after the tiger incident. He then mentions how he's skillful enough with his whip to target a tiger who's not performing in a group of tigers, whereas other trainers will just hit all of them.
In another scene, Hackenberger describes his training methods for the wolves he works with. "He's still a wolf," he says. "You smack 'em, and they generally fold like a house of cards. And that's the beauty."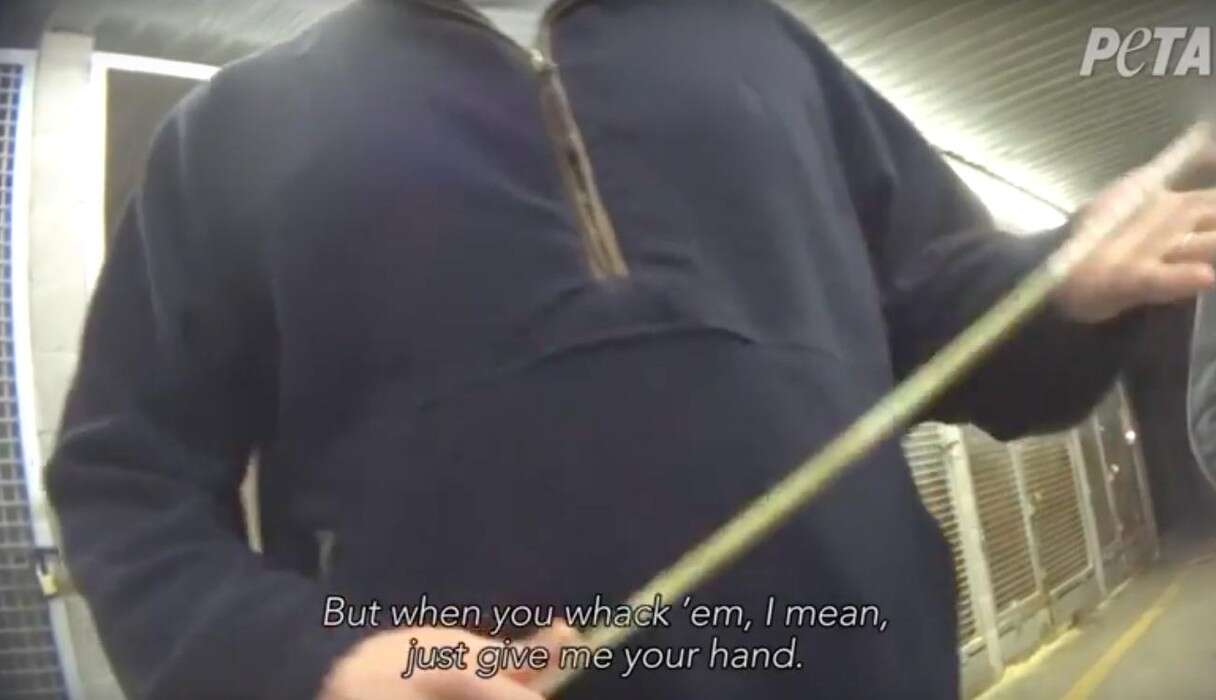 He then takes out a wooden stick, and appears to show the camera person how to hit the wolf near the head. "He's very afraid of it," someone who appears to be a worker says, before Hackenberger shushes him.
A wolf can be seen pacing nervously in the background, apparently shut in a tiny kennel.
Later, an administrator of Bowmanville Zoo, the Ontario, Canada, facility Hackenberger co-owns and where the footage was filmed, can be heard talking about the trainer's violent methods.
"You throw them down on the ground so they know who's boss," the administrator says. "That's basically Michael's way of working all animals."
Wolves on leashes at Bowmanville Zoo.Facebook/The Bowmanville Zoological Park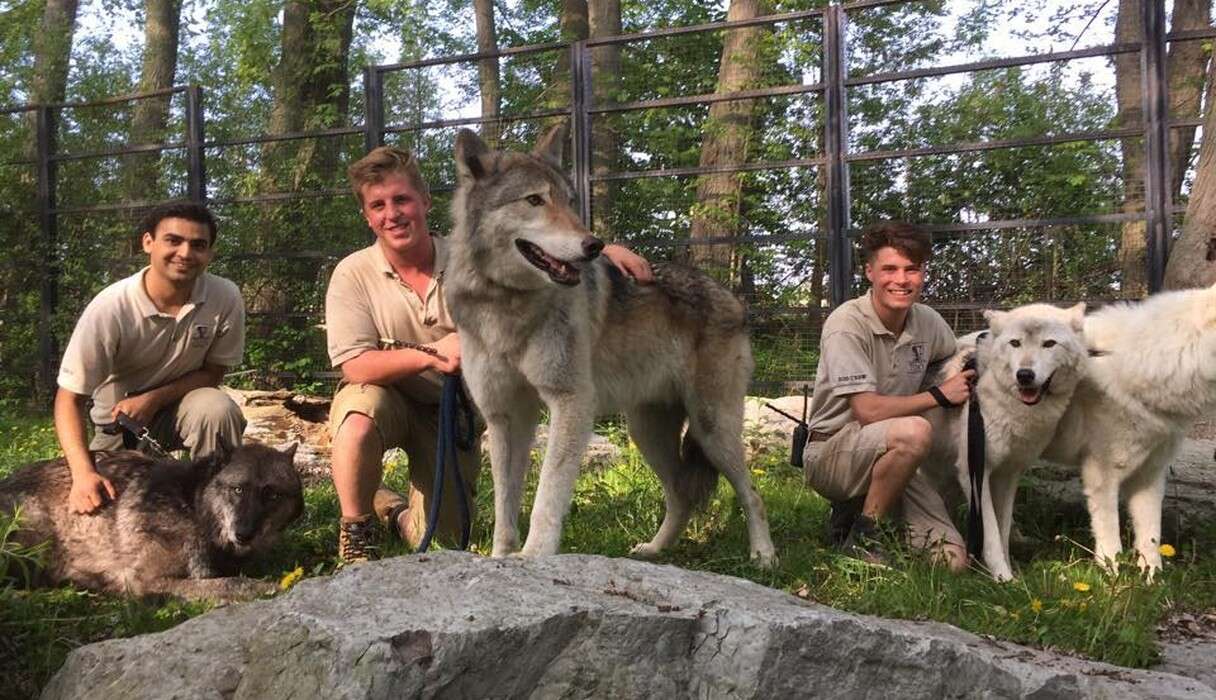 In yet another clip, Hackenberger describes how his training methods don't work on sensitive animals, whom he describes as "soft," because "they're just, 'When's this fucker gonna kill me?'"
In addition to the tiger whipping video, Hackenberger was previously filmed shouting curses at a baboon who fell off a mini horse during a live morning show stunt.
A quick glance through Bowmanville Zoo's Facebook page shows a number of questionable practices, including visitors playing with lion and tiger cubs, wild animals walked on leashes and a newborn lion cub being used in a promotional stunt.
Training starts early at Bowmanville Zoo.FACEBOOK/THE BOWMANVILLE ZOOLOGICAL PARK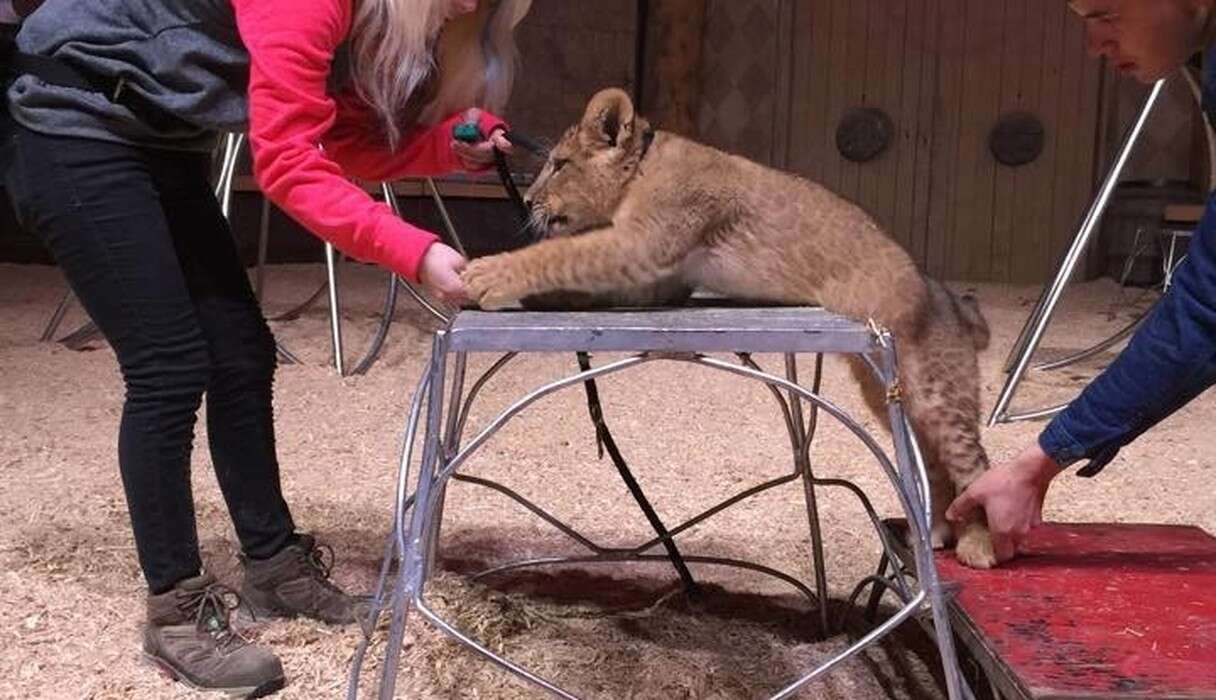 The zoo is inexplicably a member of Canada's Accredited Zoos and Aquariums (CAZA), one of the country's premier accreditation groups, though Hackenberger uses the zoo's animals for his film work and conducts his "training" on the zoo's premises. CAZA launched an investigation of the facility, which was already on probation for unknown reasons, after the first video's release.
The original footage was also turned over to the Ontario SPCA, which has the power to charge Hackenberger with animal cruelty and remove animals from his care.
While many performing animal trainers claim to use gentle training methods, the unfortunate reality is that it's just not possible to coerce a large wild animal into performing without the threat of violence.
"In order to train a cat for a circus act like that ... it has to be done with fear and pain," Susan Bass, PR director for the Florida sanctuary Big Cat Rescue (BCR), told The Dodo last month.
A tiger chained by the neck at Bowmanville Zoo.Facebook/The Bowmanville Zoological Park
BCR has rescued several animals from abusive training situations, including one black leopard who was repeatedly beaten in the head with a shovel to the point where his eyes and skull were damaged.
"Just look at a domestic cat," Bass added. "They're going to do what they want to do when they're going to do it. Anytime you want a cat to be 'on' - in a 'show must go on' kind of thing - there's no way you're going to get that cat to do what you want them to do without that type of fear and training."
Hackenberger runs with a days-old lion cub in a promotional stunt.Facebook/The Bowmanville Zoological Park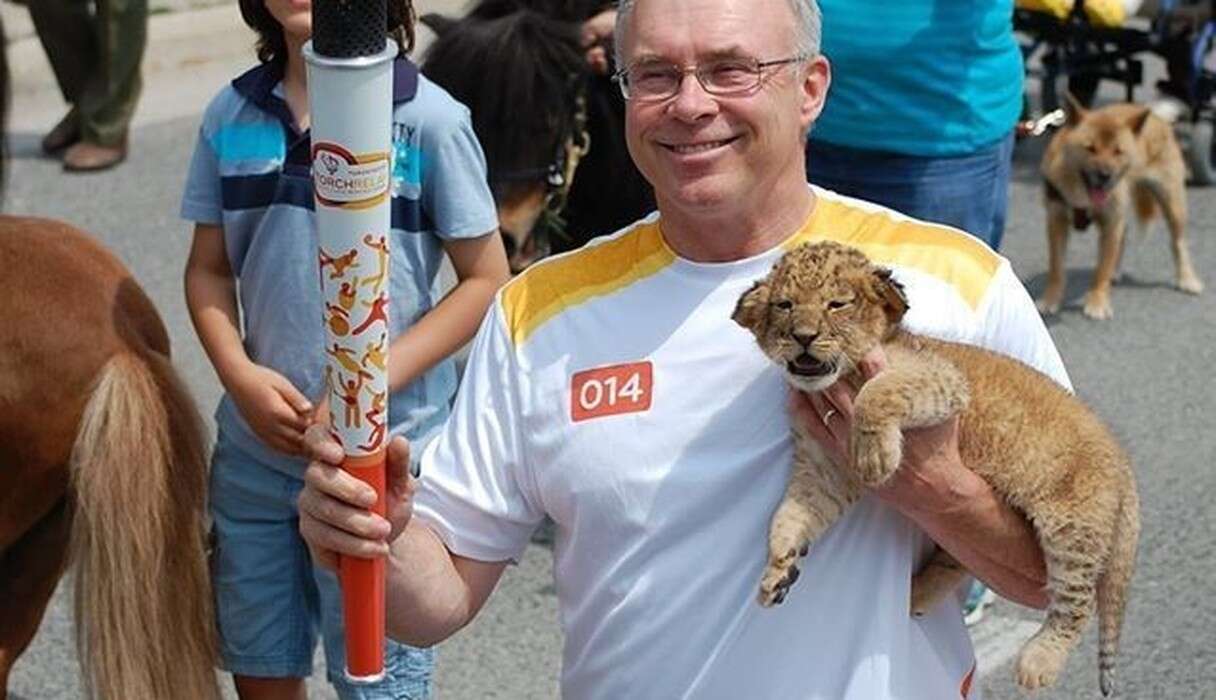 And Hackenberger admits as much in the recent video. "At the end of the day, it's only through disincentives that you can absolutely force an animal into something," he says, shortly after describing his whipping methods.
The best way to stop this practice is simple: Avoid any shows or movies that use trained exotic animals. You can also contact CAZA and the Ontario SPCA and ask them to take action against Hackenberger.
If you'd like to help animals who have been rescued from similar situations, you can make a donation to Big Cat Rescue.
Watch the full video below.
And here's the original footage.