Lions Pacing Inside Abandoned Zoo Are So Stressed It's Surreal
Three lions who were left to die at a "horrific" abandoned zoo are still trapped there - but hopefully not for long.
The lions, along with two bears, spent years living in tiny cages at the Gyumri Zoo in Armenia after the facility's owner - by some accounts a lavish oligarch, by others an unlucky businessman - ran into financial trouble and abandoned them. It's unclear how many animals were originally at the facility, but it's believed that many of them died.
Roger Allen
Roger Allen
For months they were cared for by a limited-income elderly couple who found the animals frothing at the mouth and crying out from lack of water. But after their story went public last month, an international team of rescue groups led by the Worldwide Veterinary Service (WVS) came together to save them.
The bears were quickly relocated to a temporary enclosure at the Yerevan Zoo, where they'll be quarantined before moving to the Libearty Bear Sanctuary in Romania. But the team has run into trouble trying to help the lions, as there's nowhere to hold them while their move is being arranged.
Roger Allen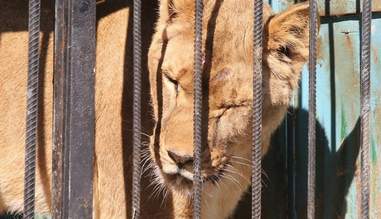 Roger Allen
"The lions need to be quarantined in their own country before being sent to a permanent home," James Holden, a representative with WVS, told The Dodo. "There is no suitable facility for this in Armenia, so we must build one."
And it's clear the lions can't stay where they are. Mery, the mother, and Zita and Gita, her grown daughters, have spent years trapped in the tiny metal cells, reportedly built into the side of a truck. Previous reports said the animals were being "driven mad" by the confinement and hunger. One of the lions, Zita, has wounds on her head from repeatedly banging it into the metal bars of her cage.
A recent video released by WVS shows the lions pacing relentlessly inside their tiny cages, nearly frantic from the stress of their close quarters.
To add to the problem, it's the middle of winter. "The lions are kept in awfully cold conditions now, 3 small, deteriorated, outdoor cages, concrete floor, no heating and -15 [degrees Celsius, 5 degrees Fahrenheit] in Gyumri," a representative with the Foundation for the Preservation of Wildlife and Cultural Assets (FPWC), one of the groups helping with the rescue efforts, said in an email provided to The Dodo.
But WVS and the rescue coalition need public help to speed along the shelter, which will cost an estimated $67,000 - and to complicate matters, a number of potentially fraudulent fundraising requests have been circulating on the internet, pulling thousands of dollars away from the official efforts.
But time is of the essence, and the facility would be a much-needed respite from the cold cells where the neglected lions have spent their lives - and a place where they can begin to heal while their permits and new homes are being arranged.
Once the lions are safe, the team hopes to use the shelter as a base for ongoing rescue efforts, including addressing Armenia's captive bear problem.
Worldwide Veterinary Service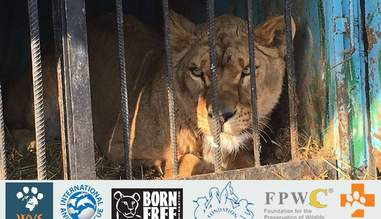 Worldwide Veterinary Service
"Once everything is over and we have a happy ending, we'll be left with a top-of-the-range facility to facilitate other rescue efforts in the country, such as saving the 60-plus Armenian bears in captivity (restaurants, dancing bears, private zoos)," Holden explained. "We will also use the facility as a base for our dog sterilization project - an initiative to spay & neuter street dogs in order to prove a sustainable, effective and humane way to manage the stray dog population (which are currently under threat by government funded culling companies)."
As for the lions, Holden said, the team is optimistic.
"Currently it's looking like they will be flown to the U.K. but this is not concrete," he explained. "We are determined to see this through."
If you'd like to contribute and help save these lions' lives, you can make a donation through WVS' website. (Please note: This is the only official fundraising effort.)
The coalition working to save these animals includes WVS, Born Free Foundation, Brigitte Bardot Foundation, FPWC, International Animal Rescue and Pro Paws.