Guys Plan To Watch Football, End Up Saving A Life Instead
"When I saw her in a cage shaking her tail at the attention, I was instantly drawn to her."
When three guys who were on their way to watch some football decided to stop at an animal shelter first, they had no idea what an impact that decision would make.
Luiz Salles knew he wanted to adopt a dog, but hadn't had much luck finding the perfect fit. When he walked into the southern California shelter where his friend John Hwang often goes to photograph dogs in need, he didn't think he'd be walking out that day with the perfect dog - he was just planning to take a quick look around.
Then he met Lua.
John Hwang
"We were just going to swing by the shelter, then go watch football," Salles told The Dodo. "When I saw her in a cage shaking her tail at the attention, I was instantly drawn to her."
Lua suffers from a degenerative hip injury and had been waiting at the shelter for nearly two months. She was so excited to greet the group of guys and give them love. All three men fell in love with Lua, and Salles knew he had to help her.
John Hwang
And so, instead of watching football, Salles started the process of adopting Lua.
"She became a priority and the guys were kind enough to sacrifice watching a big chunk of the game to stay with me," Salles said.
John Hwang
After signing the paperwork and making Lua an official member of his family, Salles and his friends headed straight to the store to buy Lua everything she would need in her new home.
Lua was so excited to go with them ...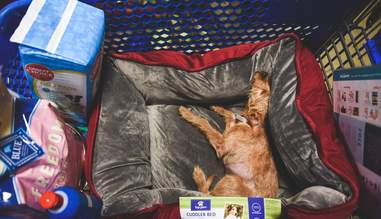 John Hwang
... and was so happy and content, she fell asleep.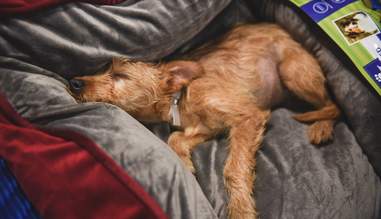 John Hwang
It's only been a handful of days since Salles adopted Lua, but the pair are already the best of friends. Even with her degenerative hip injury, Lua is an incredibly easy, low-maintenance dog, and seems grateful for everything her new dad gives her.
Luiz Salles
"She's worth the time and expense and gives me back a lot more than I put into her," Salles said. "I couldn't be happier with how it turned out."