Everyone Came Together To Help This Abused Guinea Pig Walk Again
She still has the will to move around like any other guinea pig, even after all she's been through.
Estella was found abandoned by the side of a road in Calaveras County, California. Someone had squeezed her so hard that her back was broken and she couldn't move her back legs.
Harvest Home Animal Sanctuary
Thankfully, a good samaritan found her, and Estella was taken to a local animal shelter, along with her friend Pip, who had also been dumped.
But the shelter was overrun with animals in need, and Estella's specific problems slipped through the cracks. "Estella along with her boyfriend Pip were left at an animal shelter in Calaveras County in the spring," Christine Morrissey, of Harvest Home Animal Sanctuary, told The Dodo. "She received no pain relief or vet care for an entire month."
Finally, a volunteer at the shelter reached out to Harvest Home Sanctuary to see if they had room for a resident like Estella, and her companion Pip.
Luckily, they did.
Harvest Home Animal Sanctuary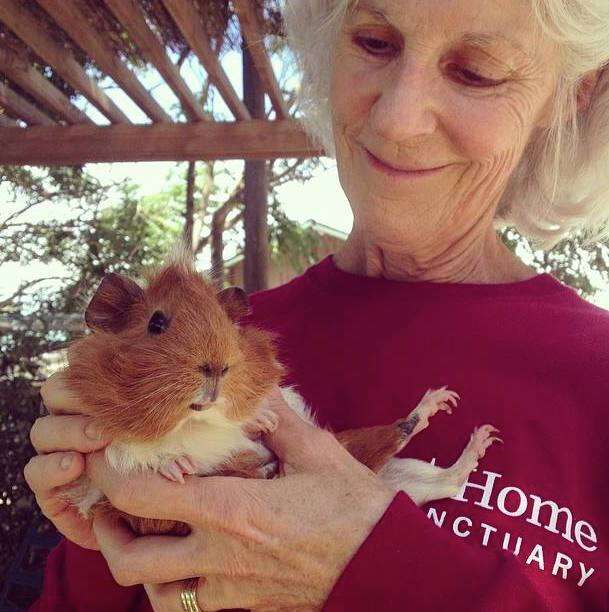 Estella and Pip arrived at Harvest Home Sanctuary, but Estella couldn't do much. Paralyzed and probably frustrated that she couldn't move around like Pip, she lay in her little bed all day.
Safety wasn't enough - people were determined to help Estella have a high quality-of-life. "Although she is now safe with us, Estella is plagued by a permanent disability. She no longer has use of her lower limbs or back. But, she has a strong will to survive," Morrissey said.
The sanctuary organized a fundraiser to construct a custom wheelchair for her.
People came forward to give Estella what she needed - something like a normal life.
Earlier this week, the sanctuary happily announced that Estella's chair is built, posting a photo of Estella in her new set of wheels.
Harvest Home Animal Sanctuary