Guinea Pig Poses Fully Nude In Steamy Bath Time Photoshoot
World, meet Strawberry Shortcake - a sweet hairless guinea pig who's ready for her close-up.
And she's clearly not bashful about it.
ERIN BONILLA/CATERS NEWS AGENCY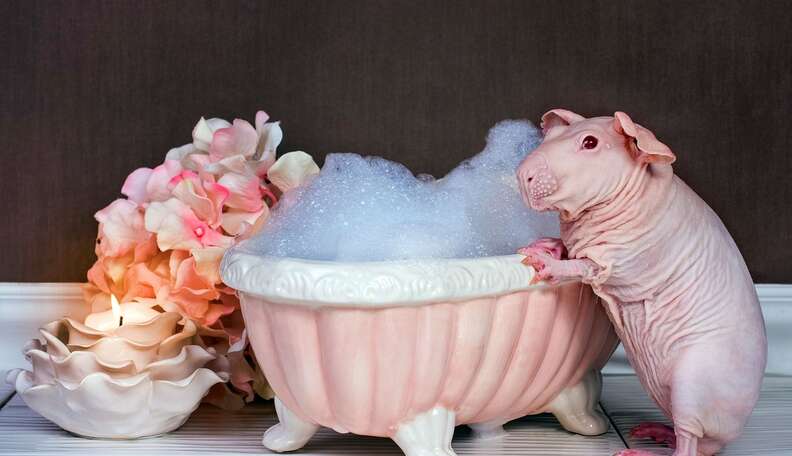 Virginia-based photographer Erin Bonilla, of GuineaArt.com, had the chance to meet up with the naturally nude rodent for a rather racy little photoshoot.
Strawberry, in all her pudgy pink glory, is the epitome of furless confidence as she poses next to, then inside, a tiny tub full of soapy suds.
ERIN BONILLA/CATERS NEWS AGENCY
The guinea pig's fleshy folds are on full display, yet the scene still exudes nothing but class, thanks to the tasteful addition of a candle and some flowers.
ERIN BONILLA/CATERS NEWS AGENCY
The Dodo spoke with Bonilla to find out what it was like working with guinea pigs on photoshoots. She says they make ideal models, and really seem to shine in front of the camera - though some, like this one, require special accommodations:
"I think they actually like it! But with Strawberry Shortcake, we had to have a heater on her throughout the entire shoot because she gets cold easily."
Yep, that makes total sense.
ERIN BONILLA/CATERS NEWS AGENCY
To check out more of Bonilla's work with guinea pigs, visit her website GuineaArt.com.