Early Tuesday morning, several men in top hats gathered to hold up a confused groundhog. Up on stage, he gazed blankly into a crowd of thousands who showed up to see him.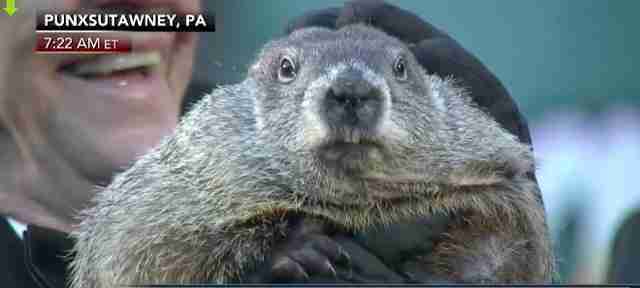 "Hear ye! Hear ye! Hear ye!" one of the men in top hats proclaimed, because if you're going to use an olde tyme phrase such as "hear ye," you might as well say it thrice.
It's Groundhog Day In Punxsutawney, Pennsylvania, and such airs and graces are expected.
"Punxsutawney Phil, the seer of seers, the prognosticator of all prognosticators, was awakened from his burrow to the cheers of his thousands of faithful followers," the man continued.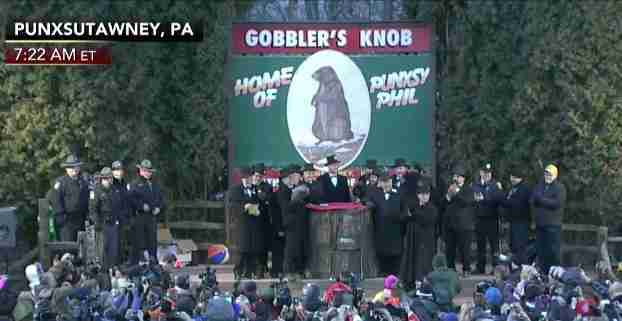 To Phil, it was a bit much hullabaloo for a cold Tuesday morning, yet it's a strange hullabaloo that keeps happening year after year.
Groundhog Day dates back to as early as 1886, when a group of groundhog hunters dubbed the Groundhog Club celebrated its own version of the European holiday Candlemas.
The European ritual is essentially the same as Groundhog Day, but it's performed with hedgehogs, who aren't native to the Americas. If they see their shadow on February 2, expect another six weeks of winter. If they can't, spring is coming early.
A hundred and thirty years after its initial celebration, the groundhog named Punxsutawney Phil didn't see his shadow on Tuesday, so winter ends early this year, according to the legend.
Enjoy the warm weather, Phil. Hopefully you won't be bothered for at least another 364 days.
Watch the full clip of the announcement below.