Grizzly Reality: Conservationists Sue U.S. Gov't Over Plummeting Bear Population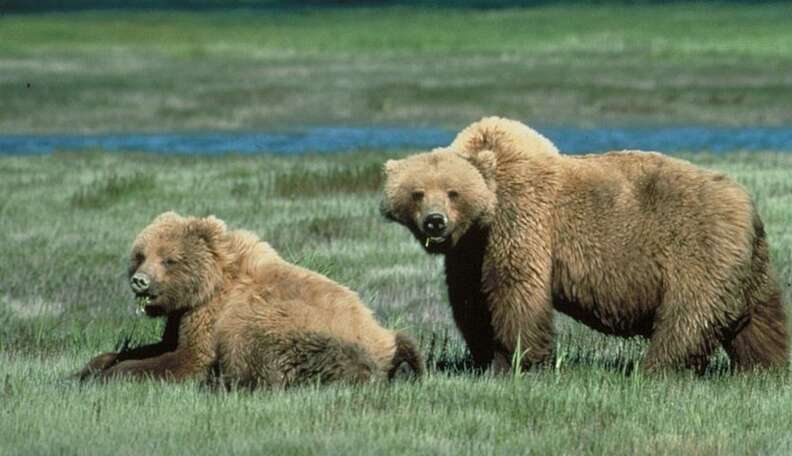 As a population of Montana's grizzly bears dwindle to just 50 (or fewer) members, a conservation group filed a lawsuit asking a judge to order the U.S. Fish and Wildlife Service (USFWS) to upgrade the species' status from threatened to endangered. The population, which lives in the mountains of Idaho and northwest Montana, is being defended by the Montana-based group Alliance for the Wild Rockies.
In the lawsuit, the group is calling for tougher restrictions on logging, road construction and other activities on federal lands that are also grizzly habitat. Filed in the U.S. District Court in Missoula, Montana, the lawsuit aims to get the bears living in the Cabinet Mountains and the Yaak River drainage up to a population of 100.
This population is a large chunk of the approximately 600 grizzlies in the lower 48 states, most of which live in and around Yellowstone National Park. Even data taken by the very organization involved, USFWS, shows that grizzlies need help, as Reuters reports:
The Fish and Wildlife Service last year published a report showing that the grizzlies were declining at an annual rate of about 0.8 percent and that the percentage of bears unlawfully or accidentally killed each year by humans tripled by 1999-2012 compared with 1982-1998. A 2013 review by the service found the Cabinet-Yaak grizzlies should be upgraded to endangered from threatened but other imperiled species were of higher priority.
[rebelmouse-frontpage https://www.rebelmouse.com/DodoEmbedEndangeredSpecies/]