Grizzlies Travel Hundreds Of Miles Along Canadian "Bear Highway"
<p><a class="checked-link" href="https://www.flickr.com/photos/denalinps/" style="text-decoration: none; color: rgb(255, 255, 255); font-family: Arial, Helvetica, sans-serif; font-size: 12px; background-color: rgb(0, 99, 220);">DenaliNPS</a></p>
A team of native Canadians and scientists has mapped out a "grizzly highway" that stretches for hundreds of miles through British Columbia, thanks to a three-year study of 57 bears. The bear boulevard spans much more land than previously thought -- roughly 380 square miles, or more than 50 JFK Airports -- where the grizzlies search for salmon that spawn in the Koeye watershed.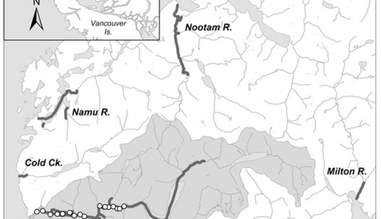 [Maps via Housty et al.]
Somewhat unusual for a conservation study, the research was conducted under the guidance of indigenous people in the area: the Heiltsuk First Nation, who settled in the Koeye watershed more than 9,000 years ago and are reaffirming their stewardship of the area.
[Carl Chapman]
To minimize the invasive impact of the study, the researchers offered no bait to the bears, opting for scented wire snares instead. The wires snagged small tufts of hair when grizzlies, attracted by the smell, lumbered by. From those bits of grizzly fuzz, the scientists could then extract bear DNA, shedding light on which bears used specific areas of the watershed.
[Lines showing the minimum distances traveled by roaming bears.]
Looking at the DNA specimens over time, there's "early evidence of a declining trend in the bear population potentially explained by declining salmon numbers," the researchers write.
"This study shows that protected areas are not enough. We knew that bears are wide-ranging, but this study shows how vulnerable they are to a variety of threats," says Richard Jeo, a study author and scientist at The Nature Conservancy, in a press release.
[via Flickr]
But the bears have friends in the members of the Heiltsuk First Nation. "We want to practice land and resource management with strong information empowering our decision makers," says study author William Housty, a member of the Qqs Projects Society, a Heiltsuk conservation group. "Whether it's regulating activities like forestry and tourism or indigenous-led advocacy to end trophy hunting for bears, ensuring that we ourselves are leading the best available science is a critical part of asserting our sovereignty and stewardship responsibility."