Dog Rescued From Dark Past Snuggles Up In A Bathrobe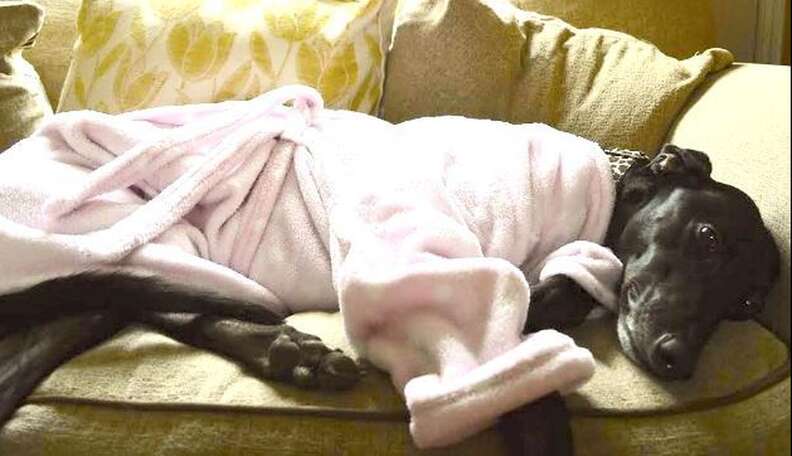 The greyhound wore a little red coat - on it were the words, "I need a home." But Patricia Turnbull wasn't looking to adopt another dog. She already had a greyhound named Roman. Besides, another dog wasn't a good idea right now - her kids were finishing school exams, and she didn't want to create any distractions.
Yet something about this dog made it impossible for Turnbull to ignore her.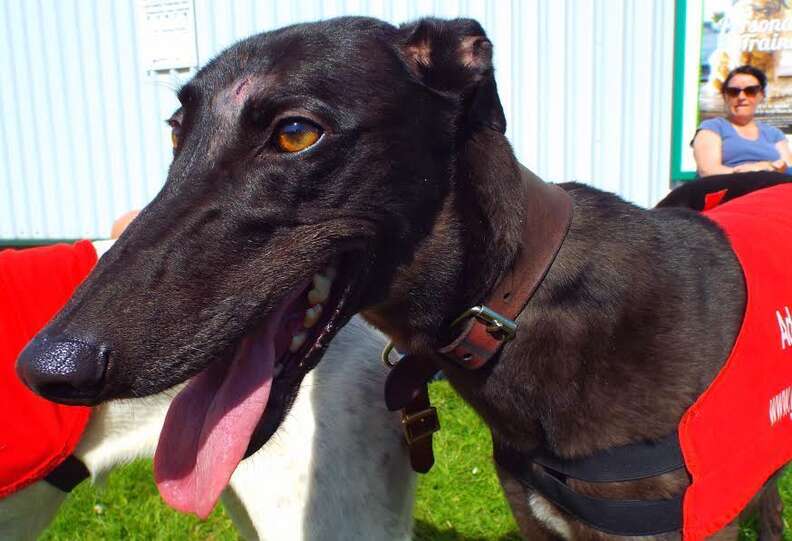 The greyhound, named Lucy, was taking part in a "meet and greet" with Greyhound Rescue and Co-ordinated Emergencies (GRACE), which was being run by Turnbull's friend Tracy Cook in South Shields, England. Lucy had been rescued after being raced at the "flapping" tracks in England, which are independent greyhound tracks not overseen by any industry body. These unlicensed tracks have no requirements for veterinary care, which leads to countless cases of animal cruelty and neglect.
Beneath the greyhound's red jacket, Turnbull could see the the dog was painfully thin, suggesting she'd been starved prior to her rescue. Turnbull sat next to her for a long time, stroking the soft black fur on her head, and letting the dog lick her hand.
Turnbull spent the day at the meet-and-greet with Cook, and by late afternoon, Turnbull knew she wasn't going home without Lucy. "She kept coming to me all day, and I just knew she needed to come home with me," Turnbull tells The Dodo. "I had to take Lucy home with me and nurse her back to health."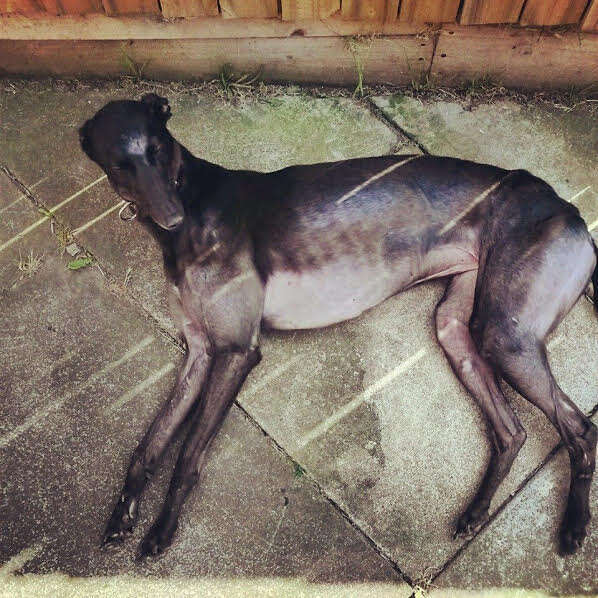 As soon as Lucy arrived back at Turnbull's house, the other dogs - Roman, Freddy and Trinny - ran out to greet her, accepting Lucy immediately. Turnbull's children also fell in love with Lucy.
Then Turnbull took off Lucy's coat, and her heart broke. "She was so skinny and had really thick, flaky skin all over her body," she recalls. "It was so thick in places that it was yellow. She had bald patches and sores and overgrown nails, and her teeth were a disgusting shade of brown, with the breath to match them."
Turnbull decided a bath would help - maybe she could wash off Lucy's flaky skin. As she gently scrubbed Lucy's body, fur came off in clumps, turning the bathwater black. "She looked so depressed standing in the bath - rigid with fear," says Turnbull. "I cried as I washed her."
Over the next week, Lucy's coat fell out - almost completely - leaving the dog bald in patches.
To make matters worse, Lucy was emotionally traumatized. "She would fall asleep and wake up screaming," Turnbull says. "I'd have to dash over and comfort her. If anyone walked past her too quickly, or accidentally nudged her, she would scream her head off."
Lucy had been through a lot, but with love and kindness, she's gotten so much better - physically and mentally. She put on weight, grew in a new, shiny coat and stopped having bad dreams.
Lucy didn't initially know how to play, but after watching her doggy siblings chase after a ball enough times, Lucy gave it it a try. Now "fetch" is one of Lucy's favorite activities. She also loves running on the beach with Roman, and leaping into the ocean to create lots of splash.
Lucy might have an active lifestyle, but what she really loves - probably more than anything - is to relax in bed. (Really, who can blame her?) At night, Lucy prefers to sleep on a cushion on the floor, but around 5 o'clock each morning, she hops into bed with Turnbull (and the other dogs) for cuddles.
"She lies with her head on the pillow like a person," Turnbull says. "She loves a fuss and she will grumble and complain and wriggle around if you stop stroking her."
"Lucy has transformed completely, both physically and mentally," says Turnbull. "Whatever made her scream out in her sleep no longer haunts her. She is happy, content and completely adored by everyone."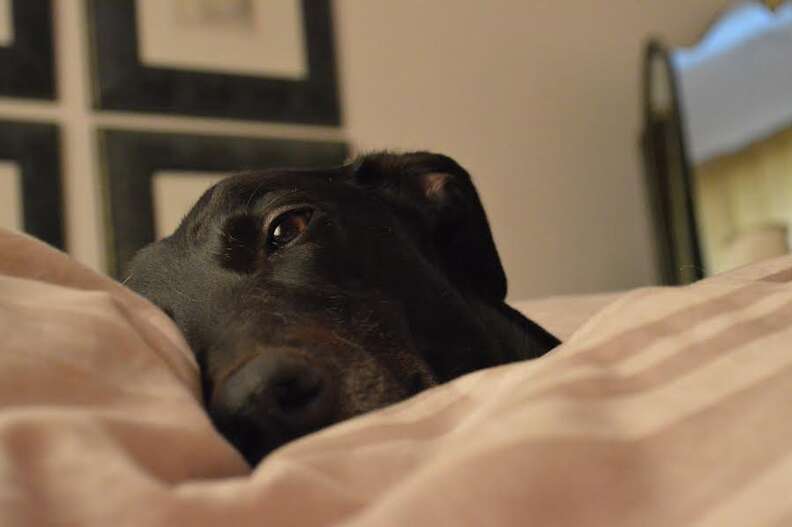 "There's not a day goes by that I don't find myself looking at her and thinking what a beauty she is," says Turnbull. "We may save the dogs, but they save us too, they teach us how to love and how to forgive, because no matter what they have been through, they still love unconditionally with their whole heart."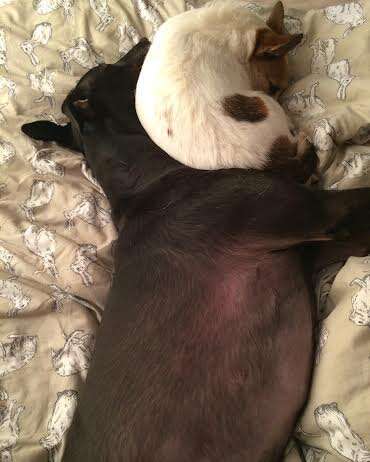 According to a report published by the League Against Cruel Sports (in conjunction with GREY2K USA Worldwide), approximately 8,000 greyhounds are "retired" from the racing industry each year in the U.K. alone, and about 2,000 dogs are simply discarded because they don't make the cut.
While it's unknown exactly how many greyhounds die from the racing industry each year in the U.S., the number of retired and discarded dogs is probably much higher than the U.K. News-Press.com reported that a greyhound dies every three days on the Florida tracks alone.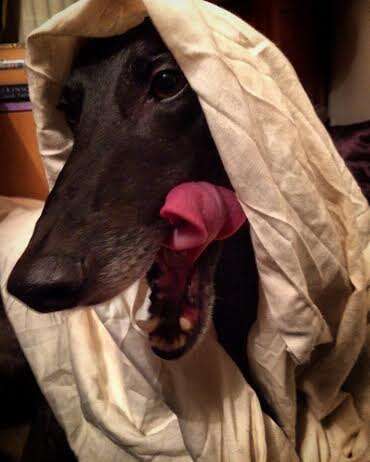 Rescue groups like GRACE work to rehome as many greyhounds as they can, but sadly, many dogs end up abandoned or killed.
You can sign this petition to help GreyT Exploitations campaign for stronger protection laws for greyhounds, and to stop gambling in the industry. To learn more about the greyhound racing industry in Great Britain, check out this information published by the League Against Cruel Sports.