Rescue Greyhound Falls In Love With Orphaned Lamb
"Peejay is so gentle and tolerant. It's almost like he knows Snowy is just a baby."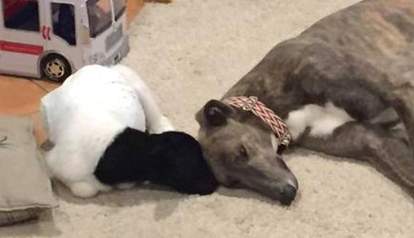 People often come into our lives for a reason - to teach us something, or perhaps to help us through a hard time. For a lamb named Snowy and a greyhound named Peejay, meeting each other couldn't have happened at a better time.
Both animals had rough starts to life - Snowy was only a few days old when he was found alone on the side of a road in South Australia. A family picked him up and tried to care for him, but Snowy refused to feed, and he became weak and dehydrated. Peejay, on the other hand, had been forced to race in the Australian greyhound racing industry until he got a ligament injury. Injured greyhounds are often euthanized since they're no longer profitable, but Peejay was lucky to be surrendered to SA Greyhound Adoption, a rescue group.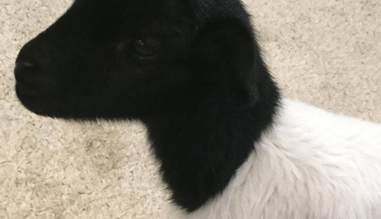 Emily Foster
Snowy and Peejay might never have met each other if they weren't taken in by Emily Foster, a volunteer foster carer in South Australia. "The owners of Freedom Hill Sanctuary were going to take him, but they were overseas," Foster tells The Dodo, "so they referred him to me as I've raised many lambs before, some of whom reside at Freedom Hill. Snowy arrived dehydrated, lethargic and in poor condition as he wouldn't feed. Then three days later, Peejay arrived as my new foster greyhound."
Foster has two greyhounds of her own, Marney and Annie, and she knew they were good with lambs. But she knew nothing about Peejay's history. Would he be safe around Snowy?
Emily Foster
When Snowy first arrived, Foster kept him isolated in what she calls her "intensive care unit," a special area in her bathroom equipped with heat lamps. But Peejay was curious about Snowy. According to Foster, he'd run up to the bathroom door to check on the lamb, tilting his head or lying outside the door to watch him.
Emily Foster
When Snowy got a little better, Foster decided to formally introduce them. "Peejay was shown Snowy through a wire security door where he could sniff him safely and get used to Snowy's loud bleats," Foster says. "Peejay was fascinated by him and his big tail wagged eagerly when he saw him."
Emily Foster
Then Foster allowed the animals to meet face-to-face. Still erring on the side of caution, Foster put a muzzle and leash on Peejay. But she soon realized she had nothing to worry about. "Peejay loved him from first sight," said Foster. "The two became close friends with Snowy looking toward Peejay for comfort and guidance."
Emily Foster
From that point on, Peejay and Snowy were inseparable - eating together, sleeping together and playing together. Peejay didn't mind when Snowy nibbled on his ears or jumped on his head ...
Or when Snowy tried to eat his food.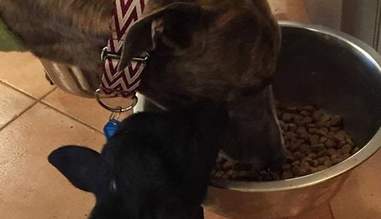 Emily Foster
But most of the time, Peejay and Snowy just liked to snooze together.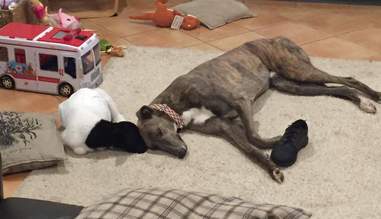 Emily Foster
"Peejay is so gentle and tolerant," says Foster. "It's almost like he knows Snowy is just a baby. He has a special personality full of kindness and an eagerness to please."
After a few weeks, Peejay and Snowy had to say goodbye so that Foster could help more animals find their forever homes. Snowy now lives at Freedom Hill Sanctuary in South Australia, and a local family adopted Peejay.
Peejay in his forever home.

| Emily Foster
Snowy at Freedom Hill Sanctuary

| Freedom Hill Sanctuary