On an April afternoon a few years ago, Nora Anderson-Dieppe got a phone call. A greyhound breeder wanted to surrender an 11-week-old female puppy with a damaged leg. Since an injured puppy is useless as a racing dog, the breeder would put her down unless she was adopted.
Anderson-Dieppe immediately agreed to adopt the puppy, whom she named Millie. She rushed over to the breeder's property in a southern suburb of Sydney, Australia, and was shocked at what she found.
Millie's leg wasn't just injured - she was missing her entire paw. The breeder wouldn't tell her how it happened, but it looked as if he - or someone else - had tried to fix the puppy's paw himself. "Traumatic amputation," the vet would later call it. Either it was an accident, or a deliberate case of animal cruelty.
The puppy had no pain medication, and she was crying and yelping for attention as Anderson-Dieppe scooped her into her arms. She took Millie straight to the veterinary hospital for emergency treatment. The vet cleaned Millie's wound and prepared it for a skin grafting operation.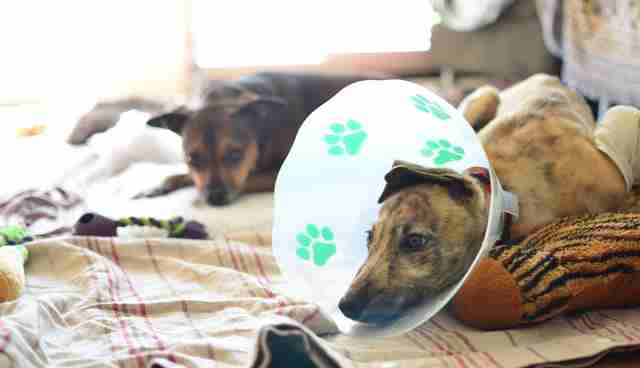 After many weeks of vet visits and physiotherapy treatments, Millie's injury healed, and she was eventually fitted with a prosthetic made by Canadian K-9 Orthotics and Prosthetics. "She loves life," Anderson-Dieppe tells The Dodo. "She runs around like every other dog, and she especially loves running in the mud or at the beach."
"She never lets anything get in her way," she added. "From day one, she used the stump to open doors and play with her friends. She's an inspiration."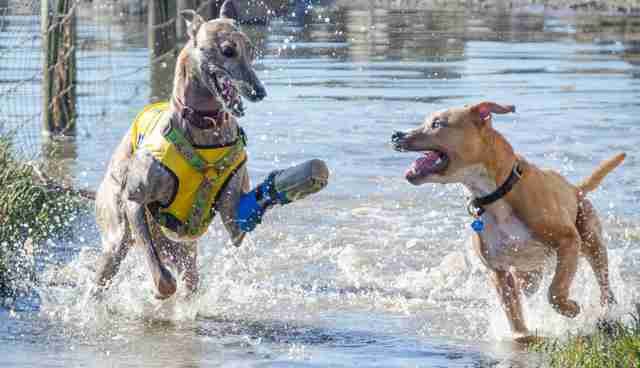 Millie might have a "happily ever after" ending, but Anderson-Dieppe hasn't stopped thinking about Millie's littermates, who were sold into the greyhound racing industry. "When I collected Millie, I saw all of her siblings with her," she says. "I remember looking at each one of them individually and apologizing to them silently for not being able to take them too."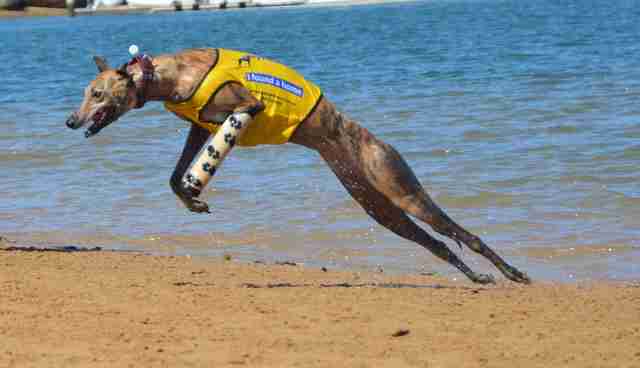 Anderson-Dieppe was able to rescue Millie's sister, Sav, after she was retired from racing in Western Australia in 2015. "Sav went to a wonderful foster home," Anderson-Dieppe says, "but I refused to accept Sav would be the last of the litter I save."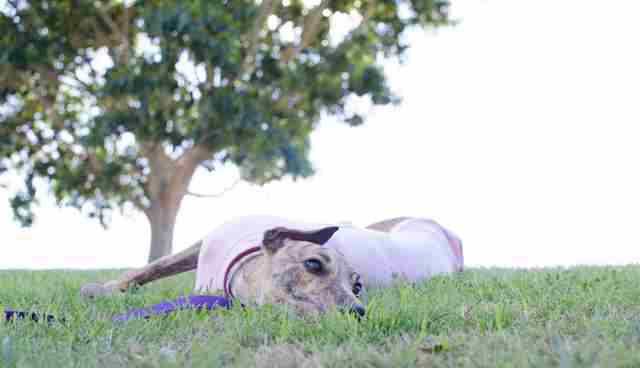 "Millie's brother, Jack, was also on the list for adoption. His owner had sold him to the Glengarrie Trial Track in New South Wales, Australia, after seeing signs offering to buy slow greyhounds. When Anderson-Dieppe inquired about adopting Jack, she then learned he'd been sold overseas. "He was sold for $3,000 to Macau, and is now racing at the Canidrome," says Anderson-Dieppe. "Most greyhounds sent to Macau die there."
Greyhound racing is bad enough in Australia, but in Macau, it's worse. The Canidrome is the only legal greyhound racing track in China, although Anderson-Dieppe claims it operates illegally by running more races than its contract allows. The Canidrome holds approximately 730 greyhounds, the majority from Australia. When greyhounds are injured or fail to win five consecutive races, they're euthanized. It's estimated that the Canidrome puts down 30 greyhounds per month.
Anderson-Dieppe has been actively campaigning to close the Canidrome, and has started a Facebook community called "Bring Jack Home." She and Millie attend every protest and anti-racing campaign event in Sydney. "We fight for Jack, and for the rest of our greyhounds in Macau," she says. "Jack represents all the greyhounds in Macau."
After racing well at the start of his career, Jack recently lost six races at the Canidrome. "Greyhounds that don't place in the top three in five consecutive races are taken off the database and presumed dead," says Anderson-Dieppe. "We have made it clear to the Canidrome we do not want to see him dead and to allow us adoption. We can only watch his profile and hope we don't see it close down."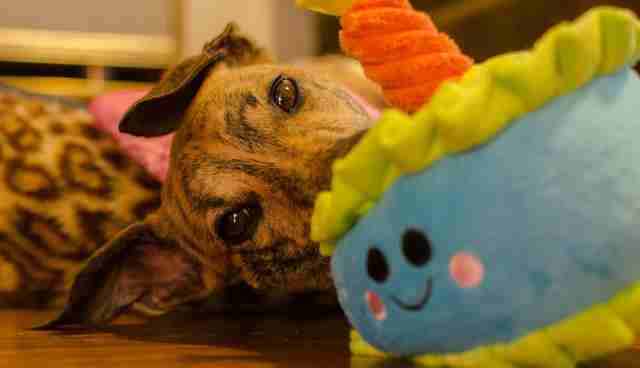 Albano Martins, the president of the ANIMA Society for the Protection of Animals in Macau, is also working to save Jack and other greyhounds at the Canidrome. "Albano works hard to negotiate the rescue of the current greyhounds so they are not euthanized and to close the track down," says Anderson-Dieppe. "It's thanks to Albano that we think Jack is being kept alive."
While Millie waits to be reunited with her brother, Australia has had some excellent news. On July 7, Premier Mike Baird announced that greyhound racing would be banned in the state of New South Wales starting next July. The Australian Capital Territory (ACT) quickly followed suit.
This also means greyhound breeders in these Australian states will be out of business. So the man who bred Millie and Jack won't be able to breed anymore greyhounds for the racing industry once the ban is in effect.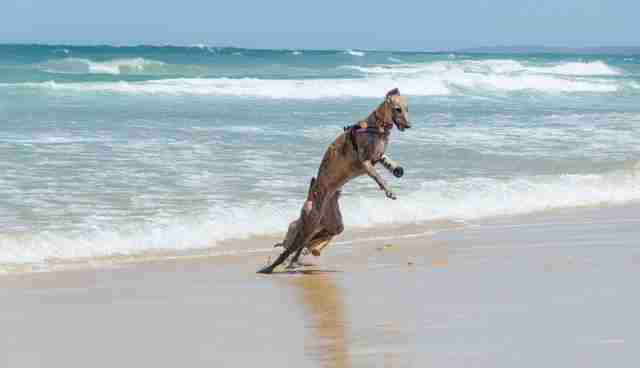 "I'm ecstatic," says Anderson-Dieppe. "This is what we've been fighting for. It was a shock and we're sure it wasn't it easy decision. And I know Millie is leaping for joy about the decision too."
Anderson-Dieppe hopes that the general public will come to appreciate greyhounds for their gentle, loving nature - not for their racing abilities.
"The bond we all have with Millie is so special," she says. "Millie snuggles in bed with us, gives little barks for attention when she's in another room to remind us not to forget about her. She has a little head wag when she's happy. She grins and wobbles her head in excitement from side to side when we come home. Her dad has taught her how to hug and she puts her paw up on his chest for kisses gently."
To help end racing at the Canidrome, you can write to the Macau Tourism Authority and ask it to consider supporting the campaign to shut the track down. You can also check out the ANIMA adoption application if you're interested in adopting a greyhound from the Canidrome.