Caught Red-Handed, Major Dairy Company Vows To Stop Cruel Practices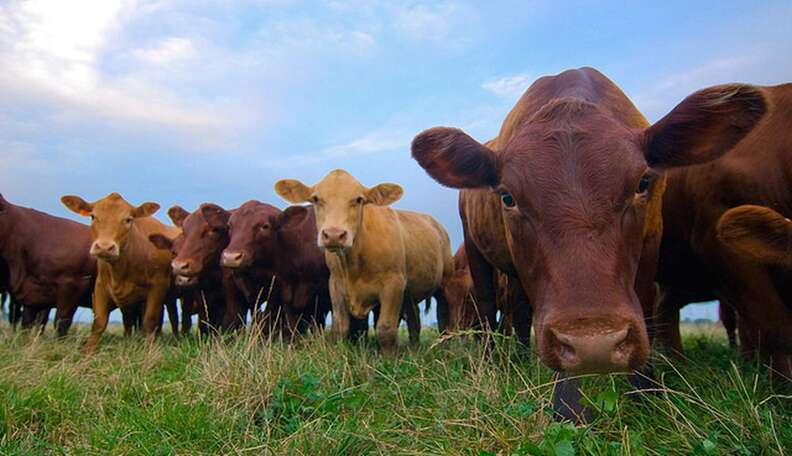 One of America's largest dairy companies is changing its ways after getting caught treating its cows with unabashed cruelty.
WARNING: Contains graphic content
Great Lakes Cheese, named one of the country's largest private companies in 2014 by Forbes, enraged animal advocates in November when a video was released showing workers at a supplier farm in Wisconsin allegedly hitting, kicking and punching cows and dragging them by their necks. One worker is pictured cutting the tail off of a cow with shears, while another chases after animals, hitting them with a stick.
The horrifying video, released by the group Mercy for Animals, led the company to make an announcement on Monday. It will now require that all supplier farms end the cruel practice of tail docking by 2018, administer pain relief during dehorning, and increase standards for safe conditions and veterinary care for sick or injured cows.
Animal advocates praised the move - and called for more action.
"While this is one of the most comprehensive animal welfare policies ever adopted by a major U.S. dairy company, we encourage Great Lakes Cheese to make this policy more meaningful by engaging third-party auditors to ensure that these standards are enforced," said Nathan Runkle, president of Mercy For Animals, in a release.
See the disturbing video that sparked Great Lakes' move below:
It's worth noting that in states with so-called ag-gag laws, these types of investigations would be illegal, resulting in punishment for the activist - not the workers abusing animals. In Wisconsin, a bill has not yet passed, but last month, Wisconsin legislator Rep. Lee Nerison announced that he is planning to introduce an ag-gag bill in the state which, if passed, would prevent animal cruelty at farms like Great Lakes from being seen or filmed by whistleblowers.