Dogs CANNOT Decide Who Gets Best Spot On Couch
Sometimes, it takes a little more than the usual squeezing, sliding and scooching over to make sure everyone is comfortable.
Especially when we're talking about a gaggle of great Danes. And one very small couch.
Dianna Helmers
Dianna Helmers
These three giants were spotted by foster mom Dianna Helmers trying to cozy up on her couch in rural Iowa.
Dianna Helmers
Dianna Helmers
Helmers, who runs Agape Fosters in Iowa, says she would have taken a video of the whole operation, "but they move like tortoises and that could be long and boring."
It all began with Clyde. At around 12 years old, he's the elder statesman of the trio - and has really earned his sprawling spot on the couch.
Dianna Helmers
Dianna Helmers
But then, up, up ... here comes Kaycee.
Dianna Helmers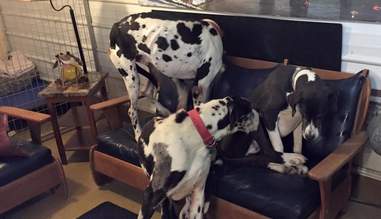 Dianna Helmers
And the chair's just not working for Gomer. So he's looking for a little couch action too.
Clyde's pissed.
Dianna Helmers
Dianna Helmers
There's plenty of stink eye to go around. But it's going to work out.
"It is pretty funny," Helmers tells The Dodo "It's the norm for me, but for others they get a kick out of it."
No matter how it shakes out for these dogs, it's going to be a soft landing. After all, they found their way to Helmers' more than hospitable home.
Gomer was saved from an Iowa puppy mill. And Clyde was set to be killed at a shelter.
At last, an uneasy union for these three dogs.
This is the culmination of many long moments of great Dane diplomacy. Sometimes, you've got to give an inch to get a smile.
Dianna Helmers
Dianna Helmers
Think you could make some room on the couch for one of these gentle giants?
Clyde and Gomer have a forever home with Helmers. But Kaycee, along with three other Danes, are looking for a home.
Get in touch with Agape Fosters through its Facebook page, or email alterupet@aol.com.