Kora, a 1-year-old Great Dane and English mastiff mix from Nebraska, has a LOT of energy.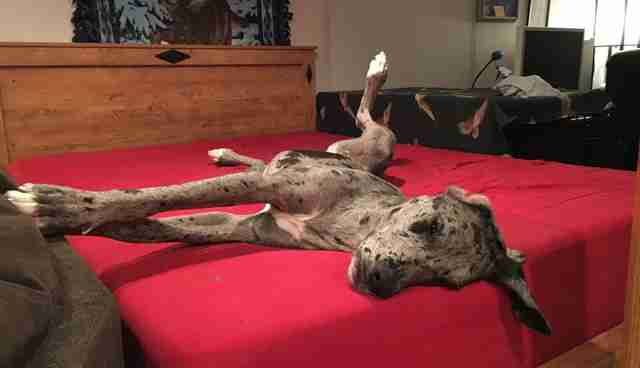 Ever since her dad, Wes McGuirk, adopted her, Kora has always had a strong desire to run, play and especially chase. Any sort of small animal that crosses Kora's path ends up being the target of a game of chase, no matter the time of day or night.
"There is a family of raccoons east of the fence in the woods who taunt her every morning," McGuirk told The Dodo. "She always charges that fence first thing every morning I let her out."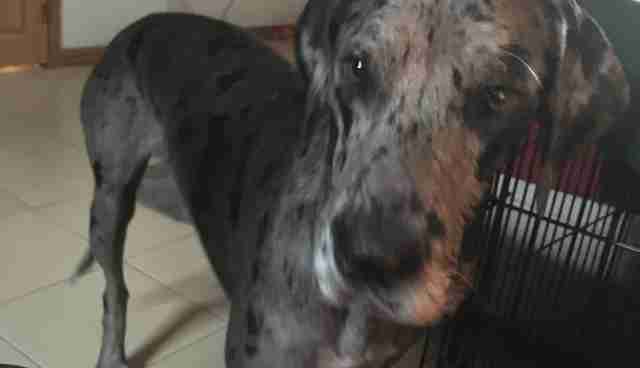 Kora even chases stuffed animals sometimes. "A large stuffed goat with bells had her retreating and barking," McGuirk said. "Once she realized they wouldn't eat her, she wants to chew on them."
McGuirk has always known his girl has drive and determination, but he had no idea just how much until recently, when she found herself in a bit of a predicament. One that got her quite a bit of media attention.
"As far as doing crazy stuff she likes to drag and chew on pillows, and if she gets a squeak toy she'll squeak it for like 10 minutes just to see if you're paying attention to her," McGuirk said. "But climbing trees - I never saw that one coming."
When McGuirk arrived home one night last week, he didn't see Kora out playing in the yard with their other dog, Heineken, and assumed she was inside hanging out with his roommate. When he went to look for her, his roommate said she was outside - but neither of them could see Kora anywhere.
McGuirk and his roommate searched all over, looking for possible holes in the ground or a fence she could have escaped through. They checked all of the usual places she liked to hang out, but to no avail.
What they didn't realize at first was, throughout all this, they could actually hear her.
"During this I would hear a low occasional whimper but I figured it was Heineken. About 45 minutes into this I was getting very concerned," McGuirk said. "We searched again, nothing, then heard the same whimper but this time I was looking right at the little guy."
To rule him out, McGuirk put Heineken inside, went back out - and could still hear the whimper.
"I heard it again but this time above me. I was like, 'No friggin way.' We raised our flashlights up together and there she was," McGuirk said.
Somehow, some way, Kora the 120-pound-dog had gotten herself stuck in a tree.
It's unclear how or why Kora ended up in the tree, but more than likely, she was chasing an animal and got a little too excited. Kora was definitely scared, and McGuirk and his roommate acted as quickly as possible to try and get her down safely.
"We called the sheriff's department. They thought it was a prank call. Twenty minutes later the yard is full of emergency vehicles and a bunch of firefighters and some deputies all saying to themselves and each other, 'How on earth did this dog get up that high in a tree?'"
Two different fire departments, Elmwood Volunteer Fire and Rescue and Plattsmouth Volunteer Fire Department, both responded to the call. Of everyone who came to help Kora that night, no one had ever seen anything like it. Once everyone was assembled and over the shock of it all, they began to formulate a plan to get Kora down.
"The first plan was trying to guide her back down the way she came up," Jacob Blunt, a firefighter with Elmwood Volunteer Fire and Rescue, told The Dodo. "The owner of the dog was up in the tree with her and was also helping us with that task."
Kora refused to move, and so they tried to use a harness to safely lower her down. When the stitching on the harness started to fail, Kora fell the rest of the way down and into the safety tarp below.
The best part about Kora's rescue? Her very casual reaction to it all.
"She got out of the net and walked into the house like nothing happened," Jon Hardy, a lieutenant with the Plattsmouth Volunteer Fire Department, told The Dodo.
While Kora was scared when she was up in the tree, once she was down, she was completely back to normal, and off to figure out her next adventure.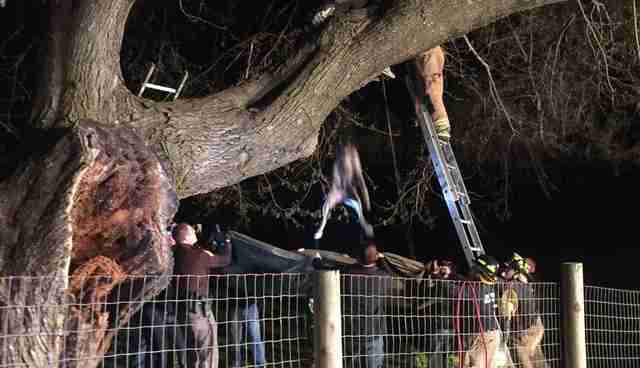 McGuirk is extremely grateful that Kora is safe, and that the situation wasn't worse. And Kora? Well, she's enjoying being a bit of a local celebrity.
"The Monday after I took her to the vet and had her microchipped. I could hear the people in the back getting all excited that Kora was indeed one of their customers," McGuirk said.
Now that Kora the explorer has experienced what it's like to climb a tree, hopefully she won't get the urge to do it again - and can keep her adventures a little lower to the ground.