The Great Bull Run has finally been run out of California.
A company offering bull run events modeled after those held in Spain caved to pressure from animal advocates, announcing Tuesday that it would stop holding the events in the state, though bull runs will continue in others. The move follows two lawsuits against the company filed by PETA and the Animal Legal Defense Fund (ALDF), who allege that the events are cruel to the animals. The groups say that the two dozen bulls, who are shipped around the country from a rodeo company in Kentucky, are mistreated, risking injuries as they are packed into tight groups and urged to chase after fleeing runners.
"The Great Bull Run is a disgrace wherever it occurs. But that will never again be in the state of California," said Stephen Wells, executive director of ALDF, in a statement.
The Great Bull Run company held one event in California last year, the Los Angeles Times reports.
"These events are extremely stressful for the bulls," Wells said in a release. "Forcing panicked animals to run like this causes unnecessary risk of injury to bulls and a public safety risk for human participants."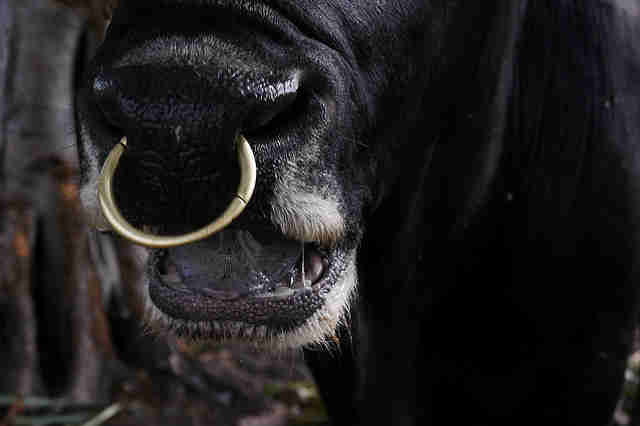 One man was sent to the hospital last year after getting trampled in the California run.
In California, there is a law that prohibits any form of "bloodless bullfight contest" - a category under which the lawsuits argued that the bull run fell.
Other states may have a harder time getting rid of the bull run. There have been nine events since the Great Bull Run started in 2013. This year, it's still planning on taking the act to Chicago, a company spokesperson told Reuters.
The event is modeled after the famous bull runs of Pamplona, Spain, where every year at the San Fermin Festival six steers are unleashed in the streets, young people scattering before them. The animals run to a ring where they are slaughtered in a bullfight.
While Spain's event continues, other bullfights are slowly becoming traditions of the past. In Mexico, an animal rights group reported that seven out of 10 people in an independent survey opposed the country's version of running with the bull. Other "mock bull runs" are beginning to crop up as well - people in bull costumes have chased runners for years in a New Orleans version: